OBITUARY
30th May 1947
Page 31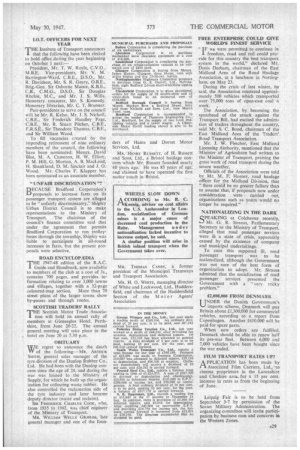 Page 31, 30th May 1947 —
OBITUARY
Close
WE regret to announce the death of the following:--MR. ARTHUR SMITH, general sales manager of the tyre division of the Dunlop Rubber Co., Ltd, He had been with the Dunlop concern since the age of 24, and during the war was loaned to the Ministry of Supply, for which he built up the organization for collecting waste rubber. He also controlled the reclamation side of the tyre industry and later became deputy director (waste and reclaim).
SIR FREDERICK CHARLES COOK., who, from 1935 to 1942, was chief engineer of the Ministry of Transport.
MR. WILLIAM WELLS GRAHAM, late general manager and one of the foun
ders of Hants and Dorset Motor Services, Ltd.
MR.1-IENRY RIJSSETT, Of H. Russett and -Sons, Ltd., a Bristol haulage coneefn which•Mr. Russett founded nearly. '60 years ago. He was 83 years of age; and claimed to have operated the first motor coach in Bristol.
MR. THOMAS CANI3Y, a former president of the Municipal Tramways and Transport Association.
M. H. 0, WHITE, managing directorof White and Lockwood, Ltd., Huddersfield, and chairman of the Huddersfield Section of the Mot or Agents' Association