One
30th May 1947
Page 27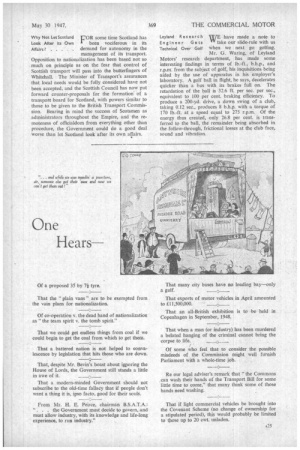 Page 27, 30th May 1947 —
One
Close
Keywords :
Hears Of a proposed 35 by 71 tyre.
That the "plain vans" are to be exempted from the vain plans for nationalization.
Of co-operation v. the dead hand of nationalization as "the team spirit v. the tomb spirit."
That we could get endless things from coal if we could begin to get the coal from which to get them.
That a battered nation is not helped to convalescence by legislation that hits those who are down.
That, despite Mr. Bevin's boast about igporing the House of Lords, the Government still stands a little in awe of it.
That a modern-minded Government should not subscribe to the old-time fallacy that if people don't want a thing it is, ipso facto, good for their souls.
From Mr. H. E. Peirce, chairman B.S.A.T.A.: " . . the Government must decide to govern, and must allow industry, with its knowledge and life-long experience, to run industry." That many city buses have no loading bay—only a gulf.
That exports of motor vehicles in April amounted to £11,500,000.
That an all-British exhibition is to be held in Copenhagen in September, 1948.
That when a man (or industry) has been murdered a belated hanging of the criminal cannot bring the corpse to life.
Of some who feel that to consider the possible misdeeds of the Commission might well furnish Parliament with a whole-time job.
Re our legal adviser's remark that "the Commons can wash their hands of the Transport Bill for some little time to come," that many think some of those hands need washing.
That if light commercial vehicles be brought into the Covenant Scheme (no change of ownership for a stipulated period), this would probably be limited to those up to 20 cwt. unladen.