HAULING MATERIAL FOR HOUSING CONTRACTS.
30th May 1922
Page 35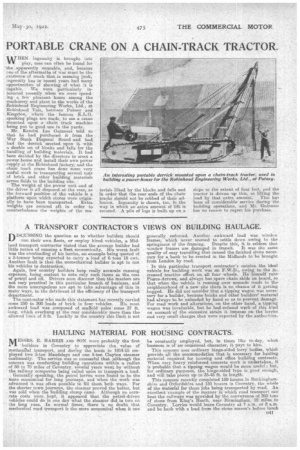 Page 36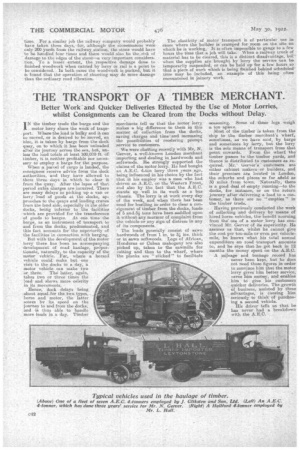 Page 35, 30th May 1922 —
HAULING MATERIAL FOR HOUSING CONTRACTS.
Close
MESSRS. E. HARRIS AND SON were probably the first builders in Coventry to appreciate the value of mechanilal transport, and during the boom in 1914-15 employed two 5-ton Idsiudslays and one 5-ton Clayton steamer continually. The service was so successful that :although the concern was conducting building operations within a radius of 50 to 70 miles of Coventry, several years went by without the railway companies being called upon to transport a load.
Generally speaking, the petrol lorries were found to be the mere economical for long journeys, and when the work was advanced it was often possible to fill them both ways. For the shorter town journeys, the steamer proved the better, but was sold when the building slump came. Although no accurate costs were kept, it appeared that the petrol-driven vehicles could do in one day what the steamer did in two on the long runs. In normal times, there is no doubt that mechanical road transport is the more economical when it can be constantly employed, but, in times like to-day, when business is of air occasional character, it. pays to hire.
This concern uses ordinary hinge-sided lorry bodies, which provide all the accommodation that is necessary for hauling material required for housing and office building contracts. When very heavy reinforced concrete work is undertaken, it is probable that a. tipping wagon would be more useful ; hut, for ordinary purposes, the hinge-sided type is good enough, and will take pieces up to 35-45 ft. in length.
This concern recently completed 150 houses in Buckinghamshire and Oxfordshire and 150 houses in Coventry, the whole of the material for these jobs being transported by road. An excellent'exampie of the manner in which road transport can beat the railways was provided by the conveyance of KO tons of stone from King's Heath, near Birmingham. 22 miles to Coventry. Lorries would leave Coventry at 7 a.m. or El amend be back with a load from the stone mason's before lunch
time. For a similar job the railway company would probably have taken three days, • far, although the stonemasons were only 200 yards from the railway station, the stone would have to be handled four times and there would also be the ,risk of damage to the edges of the stone—a very important consideration. To a lesser extent, the respective damage done to finished woodwork when carried by lorry or rail is a point to be considered. In both eases the woodwork is packed, but it is found that the operation of shunting may do more damage than the ordinary road vibration.
The elasticity of motor transport is of particular use in eases where the builder is cramped for room on the site on which he is working, It is often impossible to gauge to a few hours the time that a job will take. When a railway truck of material has to be cleared, this is a distinct disadvantage, bill:when the supplies are brought by lorry the service -can be temporarily suspended, or can be held up for a few hours so that a piece of work which is being finished behind scheduled time may be included, an example of this being often encountered in joinery work.