Small operators feel the force of Focus DIY collapse
30th June 2011
Page 8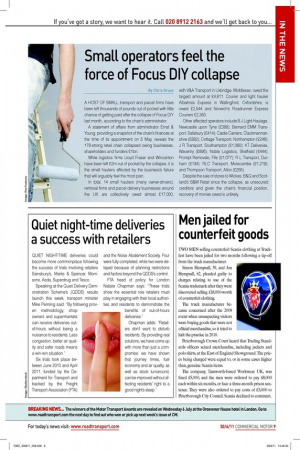 Page 8, 30th June 2011 —
Small operators feel the force of Focus DIY collapse
Close
By Chris Druce A HOST OF SMALL transport and parcel firms have been left thousands of pounds out of pocket with little chance of getting paid after the collapse of Focus DIY last month, according to the chain's administrator.
A statement of affairs from administrator Ernst & Young, providing a snapshot of the chain's finances at the time of its appointment on 5 May, reveals the 178-strong retail chain collapsed owing businesses, shareholders and funders £1bn.
While logistics firms Lloyd Fraser and Wincanton have been left £2m out of pocket by the collapse, it is the small hauliers affected by the business's failure that will arguably feel the most pain.
In total, 14 small hauliers (many owner-drivers), removal firms and parcel delivery businesses around the UK are collectively owed almost £17,000, with V&A Transport in Uxbridge, Middlesex, owed the largest amount at £4,811. Courier and light haulier Albatross Express in Wallingford, Oxfordshire, is owed £2,544 and Norwich's Roadrunner Express Couriers £2,350.
Other affected operators include B J Light Haulage, Newcastle upon Tyne (£388); Bernard EMM Transport, Salisbury (£414); Castle Carriers, Clackmannanshire (£882); Cottage Transport, Northampton (£248); J R Transport, Southampton (£1,060); KT Deliveries, Wavertry (£895); Noble Logistics, Sheffield (£444); Prompt Removals, Fife (£1,077); R L Transport, Durham (£134); RLC Transport, Morecambe (£1,219); and Thompson Transport, Alton (£255).
Despite the sale of stores to Wickes, B&Q and Scotland's B&M Retail since the collapse, as unsecured creditors and given the chain's financial position, recovery of monies owed is unlikely.