PREMIUM LONG DISTANCE
30th June 2011
Page 43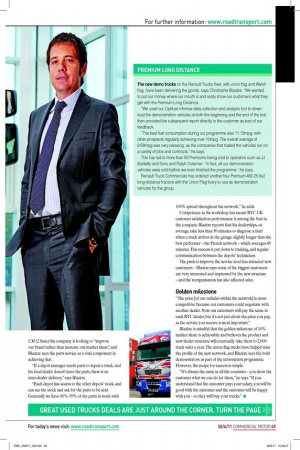 Page 43, 30th June 2011 —
PREMIUM LONG DISTANCE
Close
The new demo trucks on the Renault Trucks fleet, with union flag and Welsh flag, have been delivering the goods, says Christophe Blazère. "We wanted to put our money where our mouth is and really show our customers what they get with the Premium Long Distance.
"We used our Optifuel Infomax data collection and analysis tool to download the demonstration vehicles at both the beginning and the end of the trial, then provided the subsequent report directly to the customer as part of our feedback.
"The best fuel consumption during our programme was 11.13mpg, with other prospects regularly achieving over 10mpg. The overall average of 9.58mpg was very pleasing, as the companies that trialled the vehicles run on a variety of jobs and contracts," he says.
This has led to more than 50 Premiums being sold to operators such as JJ Bartletts and Sons and Ralph Coleman. "In fact, all our demonstration vehicles were sold before we even finished the programme," he says.
Renault Truck Commercials has ordered another four Premium 460.25 6x2 long-distance tractors with the Union Flag livery to use as demonstration vehicles for the group.