When disaster
30th June 2011
Page 38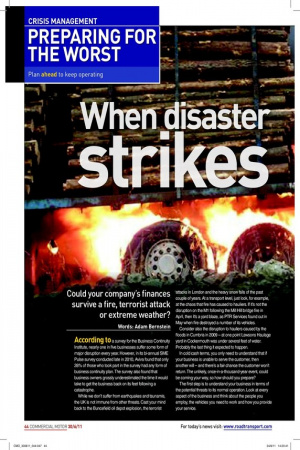 Page 39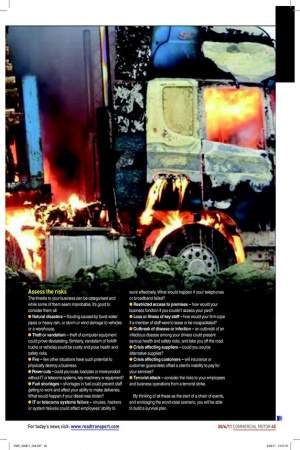 Page 40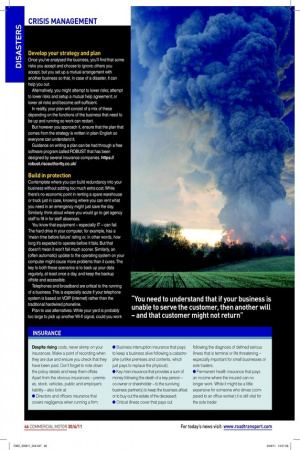 Page 41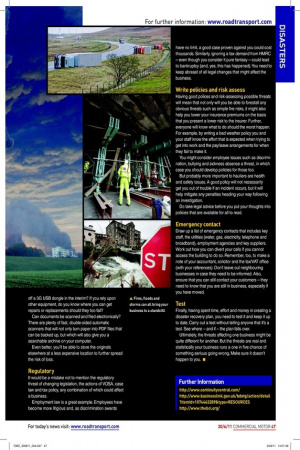 Page 38, 30th June 2011 —
When disaster
Close
Keywords :
Management
,
Ethics
,
Actuarial Science
,
Emergency Management
,
Risk Management
,
Financial Institutions
,
Institutional Investors
,
Business Continuity Planning
,
Risk
,
Public Safety
,
Insurance
,
Business / Finance
Could your company's finances survive a fire, terrorist attack or extreme weather?
Words: Adam Bernstein According to a survey for the Business Continuity Institute, nearly one in five businesses suffer some form of major disruption every year. However, in its bi-annual SME Pulse survey conducted late in 2010, Aviva found that only 28% of those who took part in the survey had any form of business continuity plan. The survey also found that business owners grossly underestimated the time it would take to get the business back on its feet following a catastrophe.
While we don't suffer from earthquakes and tsunamis, the UK is not immune from other threats. Cast your mind back to the Buncefield oil depot explosion, the terrorist attacks in London and the heavy snow falls of the past couple of years. At a transport level, just look, for example, at the chaos that fire has caused to hauliers. If it's not the disruption on the M1 following the Mill Hill bridge fire in April, then it's a yard blaze, as PTR Services found out in May when fire destroyed a number of its vehicles.
Consider also the disruption to hauliers caused by the floods in Cumbria in 2009 – at one point Lawsons Haulage yard in Cockermouth was under several feet of water. Probably the last thing it expected to happen.
In cold cash terms, you only need to understand that if your business is unable to serve the customer, then another will – and there's a fair chance the customer won't return. The unlikely, once-in-a-thousand-year event, could be coming your way, so how should you prepare?
The first step is to understand your business in terms of the potential threats to its normal operation. Look at every aspect of the business and think about the people you employ, the vehicles you need to work and how you provide your service.
Assess the risks
The threats to your business can be categorised and while some of them seem improbable, it's good to consider them all:
● Natural disasters – flooding caused by burst water pipes or heavy rain, or storm or wind damage to vehicles or a warehouse.
● Theft or vandalism – theft of computer equipment could prove devastating. Similarly, vandalism of forklift trucks or vehicles could be costly and pose health and safety risks.
● Fire – few other situations have such potential to physically destroy a business.
● Power cuts – could you route, load plan or move product without IT or telecoms systems, key machinery or equipment?
● Fuel shortages – shortages in fuel could prevent staff getting to work and affect your ability to make deliveries. What would happen if your diesel was stolen?
● IT or telecoms systems failure – viruses, hackers or system failures could affect employees' ability to work effectively. What would happen if your telephones or broadband failed?
● Restricted access to premises – how would your business function if you couldn't access your yard?
● Loss or illness of key staff – how would your firm cope if a member of staff were to leave or be incapacitated?
● Outbreak of disease or infection – an outbreak of an infectious disease among your drivers could present serious health and safety risks, and take you off the road.
● Crisis affecting suppliers – could you source alternative supplies?
● Crisis affecting customers – will insurance or customer guarantees offset a client's inability to pay for your services?
● Terrorist attack – consider the risks to your employees and business operations from a terrorist strike.
By thinking of all these as the start of a chain of events, and envisaging the worst-case scenario, you will be able to build a survival plan.
Develop your strategy and plan
Once you've analysed the business, you'll find that some risks you accept and choose to ignore; others you accept, but you set up a mutual arrangement with another business so that, in case of a disaster, it can help you out.
Alternatively, you might attempt to lower risks; attempt to lower risks and setup a mutual help agreement; or lower all risks and become self-sufficient.
In reality, your plan will consist of a mix of these depending on the functions of the business that need to be up and running so work can restart.
But however you approach it, ensure that the plan that comes from the strategy is written in plain English so everyone can understand it.
Guidance on writing a plan can be had through a free software program called ROBUST that has been designed by several insurance companies. https:// robust.riscauthority.co.uk/
Build in protection
Contemplate where you can build redundancy into your business without adding too much extra cost. While there's no economic point in renting a spare warehouse or truck just in case, knowing where you can rent what you need in an emergency might just save the day. Similarly, think about where you would go to get agency staff to fill in for staff absences.
You know that equipment – especially IT – can fail. The hard drive in your computer, for example, has a 'mean time before failure' rating or, in other words, how long it's expected to operate before it fails. But that doesn't mean it won't fail much sooner. Similarly, an (often automatic) update to the operating system on your computer might cause more problems than it cures. The key to both these scenarios is to back up your data regularly, at least once a day, and keep the backup offsite and accessible.
Telephones and broadband are critical to the running of a business. This is especially acute if your telephone system is based on VOIP (internet) rather than the traditional hardwired phoneline.
Plan to use alternatives. While your yard is probably too large to pick up another Wi-fi signal, could you work off a 3G USB dongle in the interim? If you rely upon other equipment, do you know where you can get repairs or replacements should they too fail?
Can documents be scanned and filed electronically? There are plenty of fast, double-sided automatic scanners that will not only turn paper into PDF files that can be backed up, but which will also give you a searchable archive on your computer.
Even better, you'll be able to store the originals elsewhere at a less expensive location to further spread the risk of loss.
Regulatory
It would be a mistake not to mention the regulatory threat of changing legislation, the actions of VOSA, case law and tax policy, any combination of which could affect a business.
Employment law is a great example. Employees have become more litigious and, as discrimination awards have no limit, a good case proven against you could cost thousands. Similarly, ignoring a tax demand from HMRC – even though you consider it pure fantasy – could lead to bankruptcy (and, yes, this has happened). You need to keep abreast of all legal changes that might affect the business.
Write policies and risk assess
Having good polices and risk-assessing possible threats will mean that not only will you be able to forestall any obvious threats such as simple fire risks, it might also help you lower your insurance premiums on the basis that you present a lower risk to the insurer. Further, everyone will know what to do should the worst happen. For example, by writing a bad weather policy you and your staff know the effort that is expected when trying to get into work and the pay/leave arrangements for when they fail to make it.
You might consider employee issues such as discrimination, bullying and sickness absence a threat, in which case you should develop policies for those too.
But probably more important to hauliers are health and safety issues. A good policy will not necessarily get you out of trouble if an incident occurs, but it will help mitigate any penalties heading your way following an investigation.
Do take legal advice before you put your thoughts into policies that are available for all to read.
Emergency contact
Draw up a list of emergency contacts that includes key staff, the utilities (water, gas, electricity, telephone and broadband), employment agencies and key suppliers. Work out how you can divert your calls if you cannot access the building to do so. Remember, too, to make a note of your accountant, solicitor and the tax/VAT office (with your references). Don't leave out neighbouring businesses in case they need to be informed. Also, ensure that you can still contact your customers – they need to know that you are still in business, especially if you have moved.
Test
Finally, having spent time, effort and money in creating a disaster recovery plan, you need to test it and keep it up to date. Carry out a test without telling anyone that it's a test. See where – and if – the plan falls over.
Ultimately, the threats affecting one business might be quite different for another. But the threats are real and statistically your business runs a one in five chance of something serious going wrong. Make sure it doesn't happen to you. ■