ENCOURAGING PEOPLE TO LOVE LOGISTICS
30th June 2011
Page 34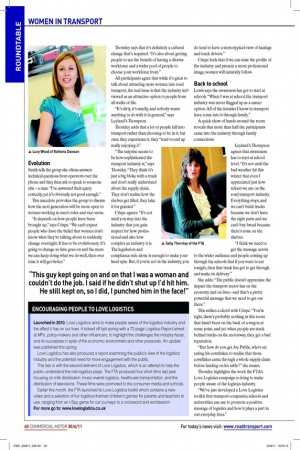 Page 34, 30th June 2011 —
ENCOURAGING PEOPLE TO LOVE LOGISTICS
Close
Launched in 2010, Love Logistics aims to make people aware of the logistics industry and the effect it has on our lives. It kicked off last spring with a 72-page Logistics Report aimed at MPs, policy-makers and other influencers, to highlight the challenges the industry faces, and its successes in spite of the economic environment and other pressures. An update was published this spring.
Love Logistics has also produced a report examining the public's view of the logistics industry and the potential need for more engagement with the public.
This ties in with the second element of Love Logistics, which is an attempt to help the public understand the role logistics plays. The FTA produced four short films last year focusing on milk distribution, music events logistics, healthcare transportation, and the distribution of televisions. These films were promoted to the consumer media and schools.
Earlier this month, the FTA launched its Love Logistics toolkit which contains a new video and a selection of fun logistics-themed children's games for parents and teachers to use, ranging from an I-Spy game for car journeys to a crossword and wordsearch. For more go to: www.lovelogistics.co.uk