Driving high safety standards
30th June 2011
Page 23
Page 25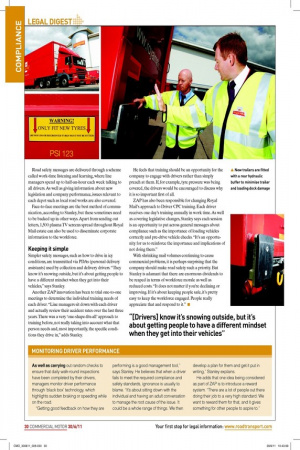 Page 23, 30th June 2011 —
Driving high safety standards
Close
Keywords :
Transport
,
Land Transport
,
Road Transport
,
Car Safety
,
Road Safety
,
Road Traffic Safety
,
Zap
,
Driver Cpc
,
Royal Society For The Prevention Of Accidents
,
Traffic Collision
,
Driving
,
Disaster / Accident
Royal Mail's award-winning fleet management has proved that high compliance standards can save money as well as lives
Words: Guy Sheppard/Images: Tom Cunningham Its future may be uncertain, but Royal Mail is setting the pace when it comes to raising safety standards among drivers.
Against a background of continuing job losses, Royal Mail bosses could be forgiven for feeling a wry sense of satisfaction at an award ceremony in May.
Although its competitors are often hailed as the example it should be following, the company was the irst postal operator to achieve the RoSPA (Royal Society for the Prevention of Accidents) gold award for managing occupational road risk.
A zero accident programme (ZAP) resulted in an 8.5% reduction in accidents between 2010-11. Collisions were down by more than 1,000 on the previous year, resulting in £4.3m being saved, largely through fewer vehicle repairs.
Geoff Stanley, head of leet supply chain who led the ZAP programme following its launch in February 2010, argues that some of the ideas adopted could easily be applied anywhere. For example, during the fortnight following the clocks going back in October, collision rates generally rise by an average of 15%.
"We did a huge campaign beforehand telling drivers the things they should think about, such as leaving more space between vehicles and making sure the headlights are on. We actually had a 40% reduction in accidents in those two weeks."
Improving the firm's OCRS
Because safety goes hand-in-hand with compliance, ZAP has coincided with a marked improvement in Royal Mail's OCRS. "By no means are we green across the board but, in the year to April 2011, we increased the number of green scores by 40%," says Stanley.
Royal Mail's 36,000-vehicle leet is one of the largest in the country and includes 1,100 tractor units and 2,000 trailers.
Safety programmes had been run before, but ZAP was different because it was centrally driven and more ambitious. The initial priority was to research the key road safety issues facing the organisation before coming up with any solutions.
Much of the focus has been on van drivers when they reverse, park and do three-point turns. "A lot of our accidents were happening when these manoeuvres were being done, so we've emphasised the need to improve these techniques," explains Stanley. "We're also itting reversing sensors to 3,500 vehicles." Road safety messages are delivered through a scheme called work-time listening and learning, where line managers spend up to half-an-hour each week talking to all drivers. As well as giving information about new legislation and company performance, issues relevant to each depot such as local road works are also covered.
Face-to-face meetings are the best method of communication, according to Stanley, but these sometimes need to be backed up in other ways. Apart from sending out letters, 1,500 plasma TV screens spread throughout Royal Mail estate can also be used to disseminate corporate information to the workforce.
Keeping it simple
Simpler safety messages, such as how to drive in icy conditions, are transmitted via PDAs (personal delivery assistants) used by collection and delivery drivers. "They know it's snowing outside, but it's about getting people to have a different mindset when they get into their vehicles," says Stanley.
Another ZAP innovation has been to trial one-to-one meetings to determine the individual training needs of each driver. "Line managers sit down with each driver and actually review their accident rates over the last three years. There was a very 'one-shape-its-all' approach to training before, not really taking into account what that person needs and, most importantly, the speciic conditions they drive in," adds Stanley. He feels that training should be an opportunity for the company to engage with drivers rather than simply preach at them. If, for example, tyre pressure was being covered, the drivers would be encouraged to discuss why it is so important irst of all.
ZAP has also been responsible for changing Royal Mail's approach to Driver CPC training. Each driver receives one day's training annually in work time. As well as covering legislative changes, Stanley says each session is an opportunity to put across general messages about compliance such as the importance of loading vehicles correctly and pre-drive vehicle checks. "It's an opportunity for us to reinforce the importance and implications of not doing them."
With shrinking mail volumes continuing to cause commercial problems, it is perhaps surprising that the company should make road safety such a priority. But Stanley is adamant that there are enormous dividends to be reaped in terms of workforce morale as well as reduced costs. "It does not matter if you're declining or improving. If it's about keeping people safe, it's pretty easy to keep the workforce engaged. People really appreciate that and respond to it." ■