Women at work
30th June 2011
Page 21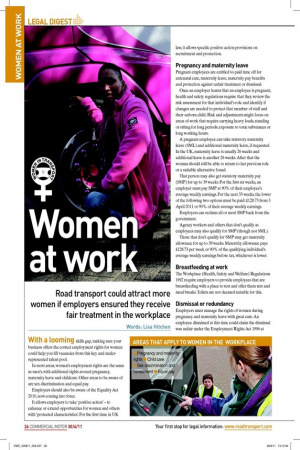 Page 22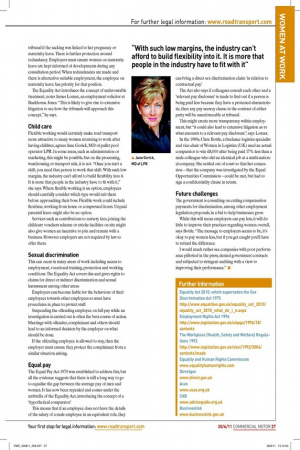 Page 21, 30th June 2011 —
Women at work
Close
Keywords :
United Kingdom Labour Law
,
Employment Compensation
,
Parental Leave
,
Law
,
Human Resource Management
,
Parenting
,
Family Law
,
Industrial Relations
,
Employment Rights Act
,
Equal Pay For Women
,
Equal Pay Act
,
Maternity And Parental Leave, Etc Regulations
,
Labor
,
Law / Crime
Road transport could attract more women if employers ensured they receive fair treatment in the workplace
Words: Lisa Hitchen With a looming skills gap, making sure your business offers the correct employment rights for women could help you ill vacancies from this key and underrepresented talent pool.
In most areas, women's employment rights are the same as men's, with additional rights around pregnancy, maternity leave and childcare. Other areas to be aware of are sex discrimination and equal pay.
Employers should also be aware of the Equality Act 2010, now coming into force.
It allows employers to take 'positive action' – to enhance or extend opportunities for women and others with 'protected characteristics'. For the irst time in UK law, it allows speciic positive action provisions on recruitment and promotion.
Pregnancy and maternity leave
Pregnant employees are entitled to paid time off for antenatal care, maternity leave, maternity pay beneits and protection against unfair treatment or dismissal.
Once an employer learns that an employee is pregnant, health and safety regulations require that they review the risk assessment for that individual's role and identify if changes are needed to protect that member of staff and their unborn child. Risk and adjustments might focus on areas of work that require carrying heavy loads, standing or sitting for long periods, exposure to toxic substances or long working hours.
A pregnant employee can take statutory maternity leave (SML) and additional maternity leave, if requested. In the UK, maternity leave is usually 26 weeks and additional leave is another 26 weeks. After that the woman should still be able to return to her previous role or a suitable alternative found.
That person may also get statutory maternity pay (SMP) for up to 39 weeks. For the irst six weeks, an employer must pay SMP at 90% of their employee's average weekly earnings. For the next 33 weeks, the lower of the following two options must be paid: £128.73 from 3 April 2011 or 90% of their average weekly earnings.
Employers can reclaim all or most SMP back from the government.
Agency workers and others that don't qualify as employees may also qualify for SMP (though not SML).
Those that don't qualify for SMP may get maternity allowance for up to 39 weeks. Maternity allowance pays £128.73 per week or 90% of the qualifying individual's average weekly earnings before tax, whichever is lower.
Breastfeeding at work
The Workplace (Health, Safety and Welfare) Regulations 1992 require employers to provide employees that are breastfeeding with a place to rest and offer them rest and meal breaks. Toilets are not deemed suitable for this.
Dismissal or redundancy
Employers must manage the rights of women during pregnancy and maternity leave with great care. An employee dismissed at this time could claim the dismissal was unfair under the Employment Rights Act 1996 at tribunal if the sacking was linked to her pregnancy or maternity leave. There is further protection around redundancy. Employers must ensure women on maternity leave are kept informed of developments during any consultation period. When redundancies are made and there is alternative suitable employment, the employee on maternity leave has priority for that position.
The Equality Act introduces the concept of unfavourable treatment, notes James Lomax, an employment solicitor at Backhouse Jones. "This is likely to give rise to extensive litigation to see how the tribunals will approach this concept," he says.
Child care
Flexible working would certainly make road transport more attractive to many women returning to work after having children, agrees Jane Gorick, MD of pallet pool operator LPR. In some areas, such as administration or marketing, this might be possible, but on the processing, warehousing or transport side, it is not. "Once you start a shift, you need that person to work that shift. With such low margins, the industry can't afford to build lexibility into it. It is more that people in the industry have to it with it," she says. Where lexible working is an option, employees should carefully consider which type would suit them before approaching their boss. Flexible work could include lexitime, working from home or compressed hours. Unpaid parental leave might also be an option.
Services such as contributions to nursery fees, joining the childcare vouchers scheme or crèche facilities on site might also give women an incentive to join and remain with a business. However employers are not required by law to offer them.
Sexual discrimination
This can occur in many areas of work including access to employment, vocational training, promotion and working conditions. The Equality Act covers this and gives rights to claims for direct or indirect discrimination and sexual harassment among other areas.
Employers can become liable for the behaviour of their employees towards other employees so must have procedures in place to protect staff.
Suspending the offending employee on full pay while an investigation is carried out is often the best course of action. Meetings with offender, complainant and others should lead to an informed decision by the employer on what should be done.
If the offending employee is allowed to stay, then the employer must ensure they protect the complainant from a similar situation arising.
Equal pay
The Equal Pay Act 1970 was established to address this, but all the evidence suggests that there is still a long way to go to equalise the gap between the average pay of men and women. It has now been repealed and comes under the umbrella of the Equality Act, introducing the concept of a 'hypothetical comparator'.
This means that if an employee does not have the details of the salary of a male employee in an equivalent role, they can bring a direct sex discrimination claim 'in relation to contractual pay'.
The Act also says if colleagues consult each other and a 'relevant pay disclosure' is made to ind out if a person is being paid less because they have a protected characteristic, then any pay secrecy clause in the contract of either party will be unenforceable at tribunal.
This might create more transparency within employment, but "it could also lead to extensive litigation as to what amounts to a relevant pay disclosure" , says Lomax.
In the 1990s, Clare Bottle, a freelance logistics specialist and vice-chair of Women in Logistics (UK) used an actual comparator to win £8,000 after being paid 17% less than a male colleague who did an identical job at a multi-national company. She settled out of court so that her concession – that the company was investigated by the Equal Opportunities Commission – could be met, but had to sign a conidentiality clause in return.
Future challenges
The government is consulting on cutting compensation payments for discrimination, among other employment legislation proposals, in a bid to help businesses grow.
While this will mean employers can pay less, it will do little to improve their practices regarding women overall, says Bottle. "The message to employers seems to be, it's okay to pay women less, but if you get caught you'll have to refund the difference.
I would much rather see companies with poor performance pilloried in the press, denied government contracts and subjected to stringent auditing with a view to improving their performance." ■