TC revokes Rob Log Homes O-licence
30th June 2011
Page 18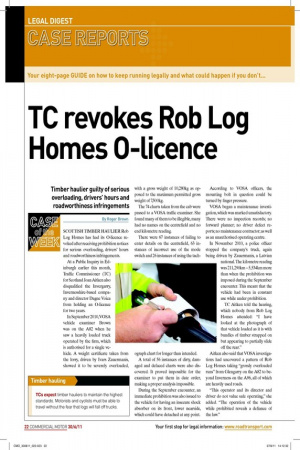 Page 18, 30th June 2011 —
TC revokes Rob Log Homes O-licence
Close
Timber haulier guilty of serious overloading, drivers' hours and roadworthiness infringements
By Roger Brown
SCOTTISH TIMBER HAULIER Rob Log Homes has had its O-licence re voked after receiving prohibition notices for serious overloading, drivers' hours and roadworthiness infringements.
At a Public Inquiry in Edinburgh earlier this month, Trafic Commissioner (TC) for Scotland Joan Aitken also disqualiied the Invergarry, Invernesshire-based company and director Dagne Voica from holding an O-licence for two years.
In September 2010, VOSA vehicle examiner Brown was on the A82 when he saw a heavily loaded truck operated by the irm, which is authorised for a single vehicle. A weight certiicate taken from the lorry, driven by Ivars Zauermanis, showed it to be severely overloaded, with a gross weight of 10,280kg as opposed to the maximum permitted gross weight of 7,500kg.
The 74 charts taken from the cab were passed to a VOSA trafic examiner. She found many of them to be illegible, many had no names on the centreield and no end kilometre reading.
There were 67 instances of failing to enter details on the centreield, 63 instances of incorrect use of the mode switch and 26 instances of using the tach ograph chart for longer than intended.
A total of 56 instances of dirty, damaged and defaced charts were also discovered. It proved impossible for the examiner to put them in date order, making a proper analysis impossible.
During the September encounter, an immediate prohibition was also issued to the vehicle for having an insecure shock absorber on its front, lower nearside, which could have detached at any point. According to VOSA oficers, the mounting bolt in question could be turned by inger pressure.
VOSA began a maintenance investigation, which was marked unsatisfactory. There were no inspection records; no forward planner; no driver defect reports; no maintenance contractor; as well as an unauthorised operating centre.
In November 2010, a police oficer stopped the company's truck, again being driven by Zauermanis, a Latvian national. The kilometre reading was 211,290km – 5,534km more than when the prohibition was imposed during the September encounter. This meant that the vehicle had been in constant use while under prohibition.
TC Aitken told the hearing, which nobody from Rob Log Homes attended: "I have looked at the photograph of that vehicle loaded as it is with bundles of timber strapped on but appearing to partially slide off the rear." Aitken also said that VOSA investigations had uncovered a pattern of Rob Log Homes taking "grossly overloaded runs" from Glengarry on the A82 to beyond Inverness on the A96, all of which are heavily used roads.
"This operator and its director and driver do not value safe operating," she added. "The operation of the vehicle while prohibited reveals a deiance of the law."