DRIVER THREATENED FOR HIS FUEL
30th June 2011
Page 16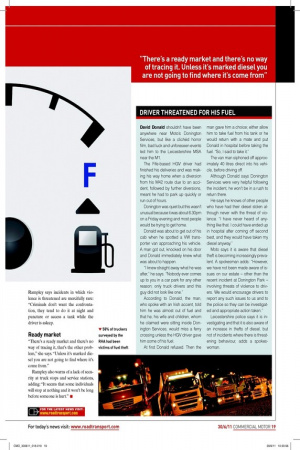 Page 16, 30th June 2011 —
DRIVER THREATENED FOR HIS FUEL
Close
David Donald shouldn't have been anywhere near Moto's Donington Services, but like a clichéd horror film, bad luck and unforeseen events led him to the Leicestershire MSA near the M1.
The Fife-based HGV driver had finished his deliveries and was making his way home when a diversion from his M42 route due to an accident, followed by further diversions, meant he had to park up quickly or run out of hours.
Donington was quiet but this wasn't unusual because it was about 6.30pm on a Friday evening and most people would be trying to get home.
Donald was about to get out of his cab when he spotted a VW transporter van approaching his vehicle. A man got out, knocked on his door and Donald immediately knew what was about to happen.
"I knew straight away what he was after," he says. "Nobody ever comes up to you in a car park for any other reason; only truck drivers and this guy did not look like one." According to Donald, the man, who spoke with an Irish accent, told him he was almost out of fuel and that he, his wife and children, whom he claimed were sitting inside Donington Services, would miss a ferry crossing unless the HGV driver gave him some of his fuel.
At first Donald refused. Then the man gave him a choice; either allow him to take fuel from his tank or he would return with a mate and put Donald in hospital before taking the fuel. "So, I said to take it." The van man siphoned off approximately 40 litres direct into his vehicle, before driving off.
Although Donald says Donington Services were very helpful following the incident, he won't be in a rush to return there.
He says he knows of other people who have had their diesel stolen although never with the threat of violence. "I have never heard of anything like that. I could have ended up in hospital after coming off second best, and they would have taken my diesel anyway." Moto says it is aware that diesel theft is becoming increasingly prevalent. A spokesman adds: "However, we have not been made aware of issues on our estate – other than the recent incident at Donington Park – involving threats of violence to drivers. We would encourage drivers to report any such issues to us and to the police so they can be investigated and appropriate action taken." Leicestershire police says it is investigating and that it is also aware of an increase in thefts of diesel, but not of incidents where there is threatening behaviour, adds a spokeswoman.