Fuelling violence
30th June 2011
Page 15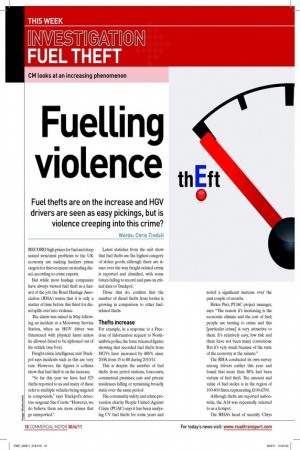 Page 16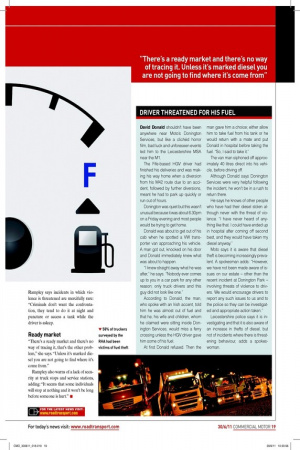 Page 15, 30th June 2011 —
Fuelling violence
Close
Fuel thefts are on the increase and HGV drivers are seen as easy pickings, but is violence creeping into this crime?
Words: Chris Tindall
RECORD high prices for fuel and deep seated structural problems in the UK economy are making hauliers prime targets for thieves intent on stealing diesel, according to crime experts.
But while most haulage companies have always viewed fuel theft as a hazard of the job, the Road Haulage Association (RHA) warns that it is only a matter of time before this thirst for diesel spills over into violence.
The alarm was raised in May following an incident at a Motorway Service Station, when an HGV driver was threatened with physical harm unless he allowed diesel to be siphoned out of his vehicle (see box).
Freight crime intelligence unit Truckpol says incidents such as this are very rare. However, the igures it collates show that fuel theft is on the increase.
"So far this year we have had 523 thefts reported to us and many of these refer to multiple vehicles being targeted in compounds," says Truckpol's detective sergeant Sue Coutts. "However, we do believe there are more crimes that go unreported." Latest statistics from the unit show that fuel thefts are the highest category of stolen goods, although there are issues over the way freight-related crime is reported and classiied, with some forces failing to record and pass on critical data to Truckpol.
Those that do, conirm that the number of diesel thefts from lorries is growing in comparison to other fuelrelated thefts.
Thefts increase
For example, in a response to a Freedom of Information request to Northumbria police, the force released igures showing that recorded fuel thefts from HGVs have increased by 486% since 2008, from 15 to 88 during 2010/11.
This is despite the number of fuel thefts from petrol stations, forecourts, commercial premises, cars and private residences falling or remaining broadly static over the same period.
The community safety and crime prevention charity People United Against Crime (PUAC) says it has been analysing CV fuel thefts for some years and noted a signiicant increase over the past couple of months.
Helen Parr, PUAC project manager, says: "The reason it's increasing is the economic climate and the cost of fuel; people are turning to crime and this [particular crime] is very attractive to them. It's relatively easy, low risk and there have not been many convictions. But it's very much because of the state of the economy at the minute." The RHA conducted its own survey among drivers earlier this year and found that more than 58% had been victims of fuel theft. The amount and value of fuel stolen is in the region of 100-600 litres, representing £100-£700.
Although thefts are reported nationwide, the A14 was repeatedly referred to as a hotspot.
The RHA's head of security Chrys Rampley says incidents in which violence is threatened are mercifully rare: "Criminals don't want the confrontation, they tend to do it at night and puncture or access a tank while the driver is asleep.
Ready market
"There's a ready market and there's no way of tracing it, that's the other problem," she says. "Unless it's marked diesel you are not going to ind where it's come from." Rampley also warns of a lack of security at truck stops and service stations, adding: "It seems that some individuals will stop at nothing and it won't be long before someone is hurt." ■