Owens receives £5.75m injection for expansion plans
30th June 2011
Page 11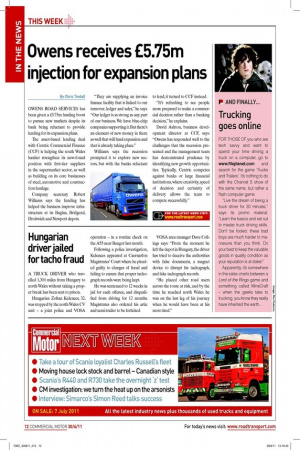 Page 11, 30th June 2011 —
Owens receives £5.75m injection for expansion plans
Close
By Chris Tindall OWENS ROAD SERVICES has been given a £5.75m funding boost to pursue new markets despite its bank being reluctant to provide lending for its expansion plans.
The asset-based lending deal with Centric Commercial Finance (CCF) is helping the south Wales haulier strengthen its new-found position with irst-tier suppliers in the supermarket sector, as well as building on its core businesses of steel, automotive and construction haulage.
Company secretary Robert Williams says the funding has helped the business improve infrastructure at its Baglan, Bridgend, Droitwich and Newport depots. "They are supplying an invoice inance facility that is linked to our turnover, ledger and sales," he says. "Our ledger is as strong as any part of our business. We have blue-chip companies supporting it. But there's an element of new money in there as well that will fund expansion and that is already taking place." Williams says the recession prompted it to explore new sectors, but with the banks reluctant to lend, it turned to CCF instead.
"It's refreshing to see people more prepared to make a commercial decision rather than a banking decision," he explains.
David Ashton, business development director at CCF, says: "Owens has responded well to the challenges that the recession presented and the management team has demonstrated prudence by identifying new growth opportunities. Typically, Centric competes against banks or large inancial institutions, where creativity, speed of decision and certainty of delivery allows the team to compete successfully."