Is the new Actros the most fuel-efficient truck to be built?
30th June 2011
Page 10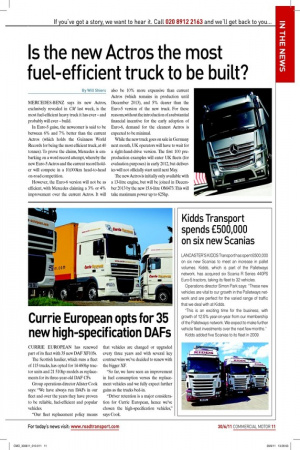 Page 10, 30th June 2011 —
Is the new Actros the most fuel-efficient truck to be built?
Close
By Will Shiers MERCEDES-BENZ says its new Actros, exclusively revealed in CM last week, is the most fuel-eficient heavy truck it has ever – and probably will ever – build.
In Euro-5 guise, the newcomer is said to be between 6% and 7% better than the current Actros (which holds the Guinness World Records for being the most eficient truck, at 40 tonnes). To prove the claims, Mercedes is embarking on a word record attempt, whereby the new Euro-5 Actros and the current record holder will compete in a 10,000km head-to-head on-road competition.
However, the Euro-6 version will not be as eficient, with Mercedes claiming a 3% or 4% improvement over the current Actros. It will also be 10% more expensive than current Actros (which remains in production until December 2013), and 5% dearer than the Euro-5 version of the new truck. For these reasons, without the introduction of a substantial inancial incentive for the early adoption of Euro-6, demand for the cleanest Actros is expected to be minimal.
While the new truck goes on sale in Germany next month, UK operators will have to wait for a right-hand-drive version. The irst 100 preproduction examples will enter UK leets (for evaluation purposes) in early 2012, but deliveries will not oficially start until next May.
The new Actros is initially only available with a 13-litre engine, but will be joined in December 2013 by the new 15.6-litre OM473. This will take maximum power up to 625hp.