Currie European opts for 35 new high-specification DAFs
30th June 2011
Page 10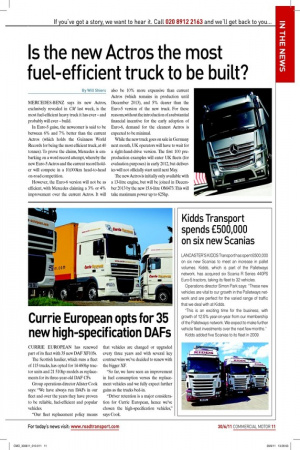 Page 10, 30th June 2011 —
Currie European opts for 35 new high-specification DAFs
Close
CURRIE EUROPEAN has renewed part of its leet with 35 new DAF XF105s.
The Scottish haulier, which runs a leet of 115 trucks, has opted for 14 460hp tractor units and 21 510hp models as replacements for its three-year-old DAF CFs.
Group operations director Alister Cook says: "We have always run DAFs in our leet and over the years they have proven to be reliable, fuel-eficient and popular vehicles.
"Our leet replacement policy means that vehicles are changed or upgraded every three years and with several key contract wins we've decided to renew with the bigger XF.
"So far, we have seen an improvement in fuel consumption versus the replacement vehicles and we fully expect further gains as the trucks bed-in.
"Driver retention is a major consideration for Currie European, hence we've chosen the high-speciication vehicles," says Cook.