US-type up-over doors for Cory vans
30th July 1971
Page 23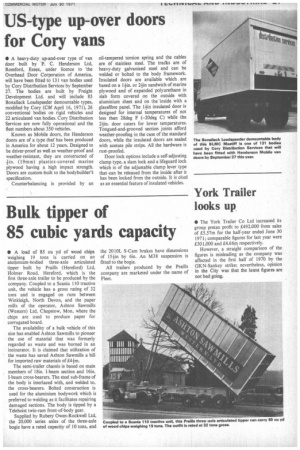 Page 23, 30th July 1971 —
US-type up-over doors for Cory vans
Close
• A heavy-duty up-and-over type of van door built by P. C. Henderson Ltd, Romford, Essex. under licence to the Overhead Door Corporation of America, will have been fitted to 131 van bodies used by Cory Distribution Services by September 27. The bodies are built by Freight Development Ltd. and will include 83 Bonallack Loadspeeder demountable types, modified by Cory (CM April 16, 1971). 26 conventional bodies on rigid vehicles and 22 articulated van bodies. Cory Distribution Services are now fully operational and the fleet numbers about 350 vehicles.
Known as Mobile doors, the Henderson doors are of a type that' has been produced in America for about 12 years. Designed to be driver-proof as well as weather-proof and weather-resistant. they are constructed of -in. (19mm) plastics-covered marine plywood having a high impact strength. Doors are custom-built to the bodybuilder's specification.
Counterbalancing is provided by an
oil-tempered torsion spring and the cables are Of stainless steel. The tracks are of heavy-duty galvanized steel and can be welded or bolted to the body framework. Insulated doors are available which are based on a 1-12-in. or Ifin sandwich of marine plywood and of expanded polyurethane in slab form covered on the outside with aluminium sheet and on the 'inside with a glassfibre panel. The 1-1-in insulated door is designed for internal temperatures of not less than 28deg F (-20deg C) while the 2-1-in. door caters for lower temperatures. Tongued-and-grooved section joints afford weather-proofing in the case of the standard doors, while the insulated doors are sealed with acetate pile strips. All the hardware is rust-proofed.
Door lock options include a self-adjusting clamp type, a slam lock and a lifeguard lock which is of the adjustable clamp lever type that can be released from the inside after it has been locked from the outside. It is cited as an essential feature of insulated vehicles.