Movement with the Times.
30th July 1908
Page 4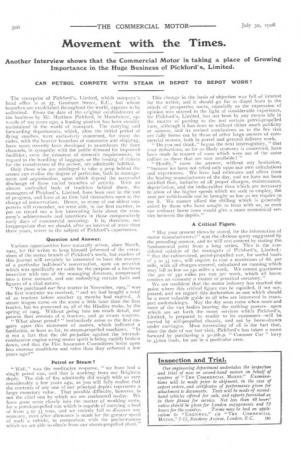 Page 4, 30th July 1908 —
Movement with the Times.
Close
Another Interview shows that the Commercial Motor is taking a place Importance in the Huge Business of Pickford' s, Limited. of Growing
CAN PETROL COMPETE WITH STEAM IN DEPOT TO DEPOT WORK?
The enterprise of Pickford's, Limited, which company's head office is at 57, Gresham Street, E.C., but whose branches are established throughout the world, appears to be unlimited. From the date of the original establishment of the business by Mr. Matthew Pickford, in Manchester, upwords of too years ago, a leading position has been steadily maintained in the world of transport. The carrying and forwarding departments, which, after the initial period of flying coaches, were exclusively concerned, for many decades, with the heavier branches of commerce and shipping, have more recently been developed to re-embrace the finer channels, in sympathy with the public demand for improved facilities; even the minutest of domestic requirements, in regard to the handling of luggage, or the issuing of tickets for the transference of the person, are .admirably Only those who are privileged to take a peep behind the scenes can realise the degree of perfection, both in management and organisation, upon which depend the successful discharge of these varied branches of activity. With an almost unrivalled body of tradition behind them, the managers of Pickford's, Limited, have been ever in the van of progress, and have at no time laid themselves open to the charge of conservatism. Hence, as many of our oldest supporters will remember, we were able, in our first number, to put on record not a few interesting facts about the company's achievements and intentions in those comparatively early days of commercial motoring. It is, therefore, not inappropriate that we should, after an interval of more than three years, revert to the subject of Pickford's experiences.
Question and Answer.
Various opportunities have naturally arisen, since March, 19o5, for the writer to keep himself informed of the extensions of the motor branch of Pickford's work, but readers of this journal will certainly be interested to have the essence of a particular half-hour's conversation, upon an occasion which was specifically set aside for the purpose of a business interview with one of the managing directors, compressed into a terse account, and one embodying certain facts and figures of a vital nature.
" We purchased our first tractor in November, 1903," was the first reminder we received, " and we had bought a total of 20 tractors before another 15 months had expired. A steam wagon came on the scene a little later than the first tractor, but we possessed so, all of the Hindley make, by the spring of 1905. Without going into too much detail, our present fleet consists of q tractors, and 30 steam wagons.
" What about petrol? " instinctively arose as the first enquiry upon this statement of names, which indicated a limitation, at least so far, to steam-propelled machines. "Is it not a fact that the old prejudice against the internalcombustion engine using motor spirit is being rapidly broken down, and that the Fire Insurance Committees insist upon less onerous conditions and rates than they enforced a few years ago?"
Petrol or Steam ?
" Well," was the meditative response, " we have had a single petrol van, and that is working from our Brighton depot. The risk of fire admittedly did. weigh with us very considerably a few years ago, as you will fully realise that the contents of any one of our principal depots represents a large monetary value. That possible difficulty, however, is not the chief one by which we are confronted to-day. We have gone most closely into the matter of working costs, for a petrol-propelled van which is capable of carrying a load of from 3. to 3t tons, and we entirely fail to discover any economy, even after allowance is made for the greater speed of such a vehicle, in comparison with the performances which we are able to Obtain front our steam-propelled plant."
This change in the basis of objection was full of interest for the writer, and it should go far to dispel fears in the minds of prospective users, especially as the expression of opinion was uttered in the light of considerable experience, for Pickford's, Limited, has not been by any means idle in the matter of putting to the test certain petrol-propelled vans, although it has done so without either much publicity or success, and its revised conclusions as to the fire risk are fully borne out by those of other large owners of commercial motors, both in parcel and general delivery work. " Do you not think," began the next interrogatory, 'that your deductions, so far as likely economy is concerned, have been made in respect of vans which were not of the same calibre as those that are now available? "
" Hardly," came the answer, without any hesitation, "because we have not relied only upon -our own calculations and experiences. We have had estimates and offers from the leading manufacturers of the day, and we have not been satisfied that, inclusive of all proper charges, maintenance, depreciation, and the india-rubber tires which are necessary to allow of the higher speeds which we seek to employ, the cost per vehicle-mile can be brought as low as we require to see it. We cannot afford the shilling which is generally asked by those who have sought to treat with us, as even our ordinary horse vans would give a more economical service between the depOts.'' A Critical Figure.
" May your present views be stated, for the information of motor manufacturers?" was the obvious query suggested by the preceding answer, and we will rest content by stating the fundamental point from a long series. This is the considered opinion of the managers of Pickford's, Limited : " that the rubber-tired, petrol-propelled van, for useful loads of 3 to 3,1 tons, will require to cost a maximum of 8d. per mile, with all charges covered, calculated on running which may fall as low as 250 miles a week. We cannot guarantee the 300 or 350 miles per van per week, which all know renders an economy a matter of practical certainty.''
We are confident that the motor industry has reached the point where this critical figure can be equalled, if not surpassed, and we regard this declaration as one which should be a most valuable guide to all who are interested in transport undertakings. May the day soon come when more and more of the van bodies bearing the striking posters—upon which are set forth the many services which Pickford's, Limited, is prepared to render to its customers—will be
carried by self-propelled chassis, and not by horse-drawn under carriages. Most interesting of all is the fart that,
since the date of our last visit, Pickford's has taken a move forward by purchasing a 3o-36h.p. " Commer Car " lorry to 'A-ton loads, for use in a particular area.