The Supply Department.
30th July 1908
Page 19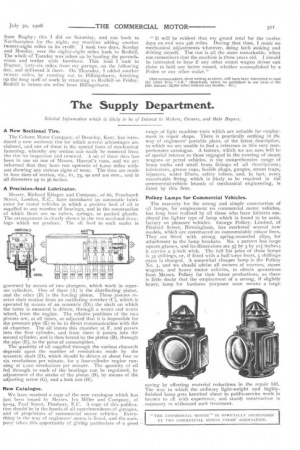 Page 19, 30th July 1908 —
The Supply Department.
Close
Selected Information which is likely to be of Interest to Makers, Owners, and their Buyers.
A New Sectional Tire.
The Coborn Motor Company, of I3rombiy, Kent, has introduced a new sectional tire for which several advantages are claimed, and one of these is the special form of mechanical fastening, whereby any section can easily be removed from the rim for inspection and renewal. A set of these tires has been in use on one of Messrs. Harrod's vans, and we are informed that they have run upwards of 6,000 miles without showing any serious signs of wear. The tires are made in four sizes of section, viz., 61, 75, go and too mm., and in all diameters up to 56 inches.
A Precision-Teed Lubricator.
Messrs. Richard Klinger and Company, of 66, Fenchurch Street, London, E.C., have introduced an automatic lubricator for motor vehicles in which a positive feed of oil is supplied to any number of bearings, and in the construction of which there are no valves, springs, or packed glands. The arrangement is clearly shown in the two sectional drawings which we produce. The oil feed to each outlet is governed by means of two plungers, which work in separate cylinders. One of these (A) is the distributing piston, and the other (B) is the forcing piston. These pistons receive their motion from an oscillating member (C), which is operated by means of an eccentric (D); the shaft on which the latter is mounted is driven, through a worm and worm wheel, from the engine. The relative positions of the two pistons are, at all times, so adjusted that it is impossible for the pressure pipe (E) to be in direct communication with the oil chamber. The oil leaves this chamber at F, and passes into the first cylinder, and from there it passes into the second cylinder, and is then forced by the piston (B), through the pipe (E), to the point of consumption.
The quantity of oil supplied through the various channels depends upon the number of revolutions made by the eccentric shaft (0), which should be driven at about four to six revolutions per minute, for a four-cylinder engine running at t,000 revolutions per minute. The quantity of oil fed through to each of the bearings can be regulated, by adjustment of the stroke of the piston (B), by means of the adjusting screw (0), and a lock nut(H).
New Catalogue.
We have received a copy of the new catalogue which ha's just been issued by Messrs. Ira Miller and Company, of 92-94, Paul Street, Finsbury, E.C. A copy of this publication should be in the hands of all superintendents of garages, and of proprietorsof commercial motor vehicles. Everything in the way of engineers' stores is listed, and •the-com, palsy takes this opportunity of -giving particulars of .a good
range of light machine tools which are suitable for employment in repair shops. There is practically nothing in tilt: way of engineers' portable plant, of the latest description, to which we are unable to find a reference in this very comprehensive catalogue. A feature, which we are sure will be of special interest to those engaged in the running of steam wagons or petrol vehicles, is the comprehensive range of brass cocks and small brass fittings of all descriptions; lubricators, grease cups, fusible plugs, gauges, steam traps, injectors, water lifters, safety valves, and, in fact, every conceivable fitting which is likely to be required in the commercial-vehicle branch of mechanical engineering, is listed by this firm.
Polkey Lamps for Commercial Vehicles.
The necessity for the strong and simple construction of oil lamps, for employment on commercial motor vehicles, has long been realised by all those who have hitherto employed the lighter type of lamp which is found to be satisfactory on pleasure vehicles. George Polkey, Limited, of Pitsford Street, Birmingham, has marketed several new models, which are constructed on commendably robust lines. They are fitted with strong spring-mounted clips, for attachment to the lamp brackets. No, i pattern has large square glasses, and its dimensions are st by 5 by 1s.. inches; it carries a I-inch wick. The full list price of these lamps is 35 shillings, or, if fitted with a bull's-eye front, 5 shillings extra is charged. A somewhat cheaper lamp is the Polkey No. 3, and we should advise all owners of tractors, steam wagons, and heavy motor vehicles, to obtain quotations from Messrs. Polkey for their latest productions, as there is little doubt that the employment of a strong, if slightly heavy, lamp for business purposes soon means a large saving by effecting material reductions in the repair bill. The .way in which the ordinary light-weight and highlyfinished lamp gets knocked about in public-service work is known to all with experience, and sturdy construction is .necessary to withstand such treatment..