Accumulator Propulsion.
30th July 1908
Page 1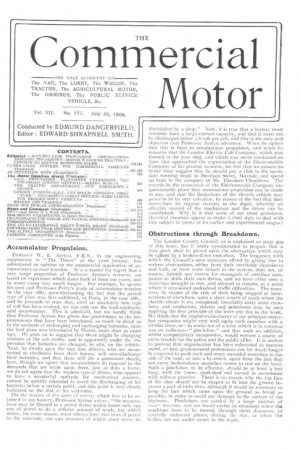 Page 2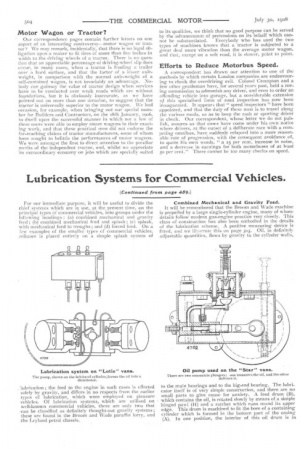 Page 1, 30th July 1908 —
Accumulator Propulsion.
Close
Professor W. E. Ayrton, F.R.S., in the engineering supplement to " The Times" of the 22nd instant, has adventured an opinion on the commercial application of accumulators to road traction. It is a matter for regret that a very large proportion of Professor Ayrton's remarks are based on experience which dates back at least ten years, and in many cases very much longer. For example, he quotes his own and Professor Perry's study of accumulator traction in the year 1882, notwithstanding the fact that the pasted type of plate was first exhibited, at Paris, in the, year 3881, and he proceeds to state that, until an absolutely new type of cell has been evolved, we can only use the lead-sulphuricacid accumulator. This is admitted, but we hardly think that Professor Avrton has given due prominence to the improvements that have been introduced, as much in detail as in the methods of recharging and exchanging batteries, since the lead plate was introduced by Plante, more than 30 years ago. He goes on to suggest that there might be charging stations at the cab ranks, and is apparently under the impression that batteries are charged, in situ, on the vehicle. Next, he dwells upon the fact that drivers, who are accustomed to obedience from their horses, will over-discharge their batteries, and that these will die a premature death ; here, though we agree that accumulators do respond to the demands that are made upon them, just as does a horse, we do not agree that the modern type of driver, who appears to have a wonderful aptitude for mechanical matter,, cannot be quickly educated to avoid the discharging of his batteries below a certain point, and this point is very clearly indicated on the dial of his voltmeter.
On the matter of the store of eneroo. which has to be retained in any battery, Professor Ayrton writes : "the accumulator may be likened to a petrol motor which burns only one can of petrol to do a definite amount of work, but which motor, for some reason, -must always have two cans of petrol in the reservoir, one can measure of which must never be
iiiminished by a drop." Now, it is true thai a battery must certainly have a large current capacity, and that it must not be discharged below 1.8 volt per cell, and this is the only real objection that Professor Ayrton advances. When he opines that this is fatal to accumulator propulsion, and when he remarks that the London Electric Cab Company, which was formed in the year 1897, and which was never conducted on lines that approached the organisation of the Electromobile Company at the present moment, we feel that we cannot do better than suggest that. he should pay a visit to the up-todate running depot in Hertford Street, Mayfair; and vend an hour in the company of Mr, Theodore Chambers. The records in the possession of the Electromobile Company unquestionably prove that accumulator propulsion can be made to pay, and that the limitations of the electric vehicle may prove to be its very salvation, by reason of the fact that they necessitate its regular re-entry to the depot, whereby art effective control of the mechanism and the driver can be established. Why is it that some of our most prominent electrical theorists appear to make it their duty to deal with this subject in terms of its earlier and experimental stages?
Obstructions through Breakdown.
The London County Council, as is explained on page 5o9. of this issue, has it under consideration to propose that a time Init shall be placed upon the obstruction which may he cased by a broken-down motorbus, The frequency with which the Council's own tramcars offend by giving rise to serious obstructions, either from their inevitable clumsiness. aridbulk, or from some failure in the system, does not, of course, furnish any excuse for managers of omnibus companies to shirk their own duties, and we have often seen a motorbus brought to rest, and allowed to remain, at a point where it occasioned undoubted traffic difficulties. The tramcars, by reason of the risk of their being stopped at intersections or elsewhere-, upon a short lenszth of track where the electric circuit is not completed, invariably carry stout crowbars, and conductors, drivers and pointsmen may be seen applying the first principle of the !ever any day in the week. We think that the engineers-in-charge of our principal motorbus companies might very well equip each omnibus with a similar lever, or—to make use of a term which is in common use on railways—" pinch-bar," and that such an addition, whilst comparatively inexpensive, would remove a source of extra trouble for the police and the public alike. It is useless to pretend that organisation has been exhausted as matters stand, or that good-natured pedestrians can for much longer be expected to push each and every stranded motorbus to the side of the road, or into a by-street, apart from the fact that not every broken-down motorbus comes to rest on the level_ Such a pinch-bar, to be effective, should be at least 9 feet long, with the lower, steel-shod end curved in accordance with railway practice. There is no reason why the top face of the shoe should not be shaped to fit into the groove between a pair of twin tires, although it would be•necessary tokeep the face which came upon the ground as broad as possible, in order to avoid any damage to the surface of the highway. Pinch-bars are carried by a large • number of steawaceons, and are found useful on occasions when the machines have to be moved, through short distances, ha specially awkward places, during the day, or when the boilers are not under steam in the depot. •
Motor Wagon or Tractor?
Our correspondence pages contain further letters on one aspect of an interesting controversy—motor wagon or tractor? We may remark, incidentally, that there is no legal obligation upon a maker to fit tires of more than five inches in width to the driving wheels of a tractor. There is no question that an appreciable percentage of driving-wheel slip does occur, in many cases, when a tractor is hauling a trailer over a hard surface, and that the factor of a lesser axleweight, in comparison with the normal axle-weight of a self-contained wagon, is not invariably an advantage. Nobody can gainsay the value of tractor design when services have to be conducted over weak roads which are without foundations, but it is Obviously inaccurate, as we have pointed out on more than one occasion, to suggest that the tractor is universally superior to the motor wagon. We had occasion, for example, when bringing out our special number for Builders and Contractors, on the 18th January, 1906, to dwell upon the successful manner in which not a few of these users were able to employ steam wagons in their exacting work, and that these practical men did not endorse the far-reaching claims of tractor manufacturers, some of whom have sought to belittle the performances of motor wagons. We were amongst the first to direct attention to the peculiar merits of the independent tractor, and, whilst we appreciate its extraordinary economy on jobs which are specially suited
to its qualities, we think that no good purpose can, be served by the advancement of pretensions on its behalf which can not be substantiated. Everybody who has used the two types of machines knows that a tractor is subjected to a great deal more vibration than the average motor wagon, and that, except on a soft road, it is slower, paint to point.
Efforts to Reduce Motorbus Speed.
A correspondent has drawn our attention to one of the methods by which certain London companies are endeavouring to check the overdriving evil. Colonel Crompton and a few other gentleman have, for several years past, held a roving commission to admonish any driver, and even to order an offending vehicle into garage, but a considerable extension oif this specialised form of road inspection has now been inaugurated. It appears that " speed inspectors " have been appointed, and that the duty of these men is to travel along the various 'roads, so as to keep the rash or sporting driver in check. Our correspondent, whose letter we do not publish, assures us that cases have come under his own notice where drivers, at the outset of a deliberate race With a competing omnibus, have suddenly relapsed into a more reasonable rate of progression, with the consequent avoidance of, to quote his own words, " a 25 per cent, increase in noise, and a decrease in earnings for both motorbuses of at least so per cent." There cannot be too many checks on speed.