Cost and CO2 savings likely from LPG-enhanced fuel test
30th January 2014
Page 5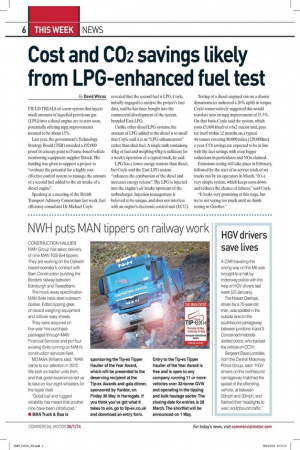 Page 5, 30th January 2014 —
Cost and CO2 savings likely from LPG-enhanced fuel test
Close
By David Wilcox
FIELD TRIALS of a new system that injects small amounts of liquefied petroleum gas (LPG) into a diesel engine are to start soon, potentially offering mpg improvements mooted to be about 15%.
Last year, the government's Technology Strategy Board (TSB) awarded a £92,000 proof of concept grant to Frome-based vehicle monitoring equipment supplier Btrack. The funding was given to support a project to "evaluate the potential for a highly costeffective control system to manage the amount of a second fuel added to the air intake of a diesel engine". Speaking at a meeting of the British Transport Advisory Consortium last week, fuel efficiency consultant Dr Michael Coyle
revealed that the second fuel is LPG. Coyle, initially engaged to analyse the project's fuel data, said he has since bought into the commercial development of the system, branded Easi-LPG.
Unlike other diesellLPG systems, the amount of LPG added to the diesel is so small that Coyle said it is an "LPG enhancement" rather than dual-fuel. A single tank containing 45kg of fuel and weighing 65kg is sufficient for a week's operation of a typical truck, he said.
LPG has a lower energy content than diesel, but Coyle said the Easi-LPG system "enhances the combustion of the diesel and increases energy release". The LPG is injected into the engine's air intake upstream of the turbocharger. Injection management is believed to be unique, and does not interfere with an engine's electronic control unit (ECU).
Testing of a diesel-engined van on a chassis dynamometer indicated a 20% uplift in torque. Coyle conservatively suggested this would translate into an mpg improvement of 15.5%. On that basis, Coyle said the system, which costs £5,000 fitted to a 6x2 tractor unit, pays for itself within 12 months on a typical 44-tonner covering 80,000 miles (129,000km) a year. CO2 savings are expected to be in line with the fuel savings, with even bigger reductions in particulates and NOx claimed.
Emissions testing will take place in February, followed by the start of in-service trials of six trucks run by six operators in March. "It's a very simple system, which keeps costs down and reduces the chance of failures," said Coyle.
"It looks very promising at this stage, but we're not saying too much until we finish testing in October."