Still learning after 35 years in the truck-selling business
30th January 2014
Page 14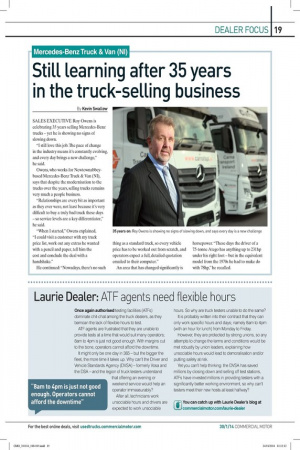 Page 14, 30th January 2014 —
Still learning after 35 years in the truck-selling business
Close
By Kevin Swallow
SALES EXECUTIVE Roy Owens is celebrating 35 years selling Mercedes-Benz trucks — yet he is showing no signs of slowing down.
"I still love this job. The pace of change in the industry means it's constantly evolving, and every day brings a new challenge," he said.
Owens, who works for Newtownabbeybased Mercedes-Benz Truck & Van (NI), says that despite the modernisation to the trucks over the years, selling trucks remains very much a people business.
"Relationships are every bit as important as they ever were, not least because it's very difficult to buy a truly bad truck these days — so service levels are a key differentiator," he said.
"When I started," Owens explained, "I could visit a customer with my truck price list, work out any extras he wanted with a pencil and paper, tell him the cost and conclude the deal with a handshake." He continued: "Nowadays, there's no such
thing as a standard truck, so every vehicle price has to be worked out from scratch, and operators expect a full, detailed quotation emailed to their computer." An area that has changed significantly is
horsepower. "These days the driver of a 75-tonne Atego has anything up to 231hp under his right foot — but in the equivalent model from the 1970s he had to make do with 78hp," he recalled.