Steadplan buys Leeds site for 0.4m
30th January 2014
Page 13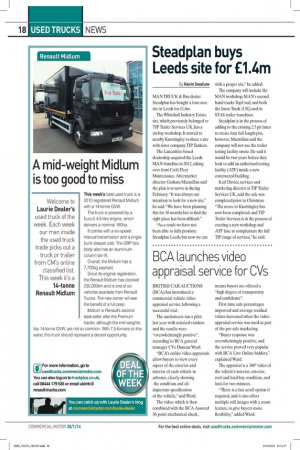 Page 13, 30th January 2014 —
Steadplan buys Leeds site for 0.4m
Close
By Kevin Swallow
MAN TRUCK & Bus dealer Steadplan has bought a four-acre site in Leeds for £1.4m.
The Whitehall Industry Estate site, which previously belonged to TIP Trailer Services UK, has a six-bay workshop. It moved to nearby Knottingley to share a site with sister company TIP Tankers.
The Lancashire-based dealership acquired the Leeds MAN franchise in 2012, taking over from Croft Fleet Maintenance. Aftermarket director Graham Macmillan said the plan is to move in during February. "It was always our intention to look for a new site," he said. "We have been planning this for 18 months but to find the right place has been difficult." "As a result we have not been able to fully promote Steadplan Leeds, but now we can
with a proper site," he added.
The company will include the MAN workshop, MAN's second hand trucks TopUsed, and both the Isuzu Truck (UK) and its STAS trailer franchises.
Steadplan is in the process of adding to the existing 2.5 pit lanes to create four full-length pits, however, Macmillan said the company will not use the trailer testing facility onsite. He said it would be two years before they look to add an authorised testing facility (ATF) inside a new constructed building.
Karl Davies, services and marketing director at TIP Trailer Services UK, said the sale was completed prior to Christmas. "The move to Knottingley has now been completed, and TIP Trailer Services is in the process of erecting a new workshop and ATF lane to complement the full TIP range of services," he said.