Weight watchers
30th January 1976
Page 28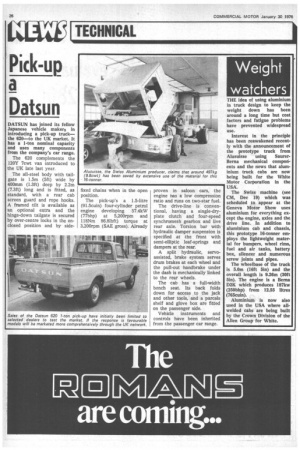 Page 28, 30th January 1976 —
Weight watchers
Close
THE idea of using aluminium in truck design to keep the weight down has been around a long time but cost factors and fatigue problems have prevented widespread use.
Interest in the principle has been reawakened recently with the announcement of the prototype truck from Alusuisse using Saurer Berna mechanical compon ents and the news that aluminium truck cabs are now being built for the White Motor Corporation in the USA.
The Swiss machine (see CM, Dec 19) which was scheduled to appear at the Geneva Motor Show uses aluminium for everything except the engine, axles and the drive line. In addition to aluminium cab and chassis, this prototype I6-tonner employs the lightweight material for bumpers, wheel rims, fuel and air tanks, battery box, silencer and numerous screw joints and pipes.
The wheelbase of the truck is 5.0m (16ft 5in) and the overall length is 9.26m (30ft 51n). The engine is a Berna D2K which produces 187kw (250bhp) from 12.55 litres (765cuin).
Aluminium is now also used in the USA where allwelded cabs are being built by the Crown Division of the Allen Group for White.