Rural Roads and Traffic.
30th January 1923
Page 8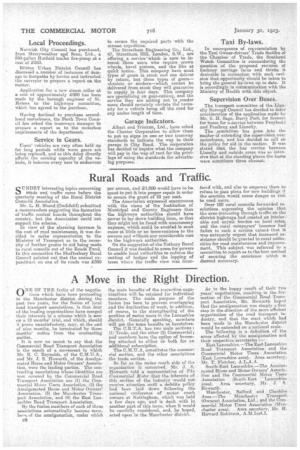 Page 8, 30th January 1923 —
Rural Roads and Traffic.
Close
SUNDRY interesting topics concerning roads and traffic came before the quarterly meeting of the Rural District Councils Association.
Mr. L. H. Shand (Cuckfield) submitted a memorandum suggesting the formation of traffic control boards throughout the country, but the Association could not support the scheme. , In view of the alarming increase in the cost of road maintenance, it was decided to make representation to the Ministry of Transport as to the, necessity of further grants in aid being made to rural councils out of the Roads Fund. In this connection the Shaftesbury Rural Council pointed out that the normal expenditure on one of its roads was 2300 per annum, and £1,000 would have to be spent to put it into proper repair in order to secure the grant of 25 per cent.
The Association expressed concurrence with the views of the Institution of Municipal and County Engineers that the highways authorities should have power to lay down building lines, so that they might not be faced -with unnecessary expense, which could be avoided in most eases at little or no inconvenience to the owners and without any considerable cost to the highways authorities. On the suggestion of the Tutbury Rural Council it was decided to press for powers to enable local authorities to enforce the cutting of hedges and the lopping of trees where the traffic view was inter
lered with, and also to empower them to refuse to pass plans for new buildings if the erection would cause danger or risk to road users.
Over 100 rural councils forwarded resolutions expressing the opinion that the ever-increasing through traffic on the district highways had created an intolerable and unjust burden on local rates, and the rural ratepayers' incomes had fallen to such a serious extent that it was extremely -urgent that increased assistance should be granted to rural authorities for road maintenance and improvement. This subject was referred to a, committee to report as to the best method of securing the assistance which is deemed necessary.