ONE HEARS
30th January 1923
Page 3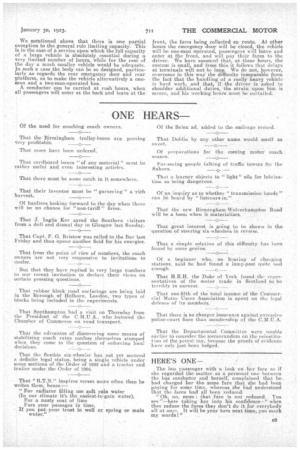 Page 3, 30th January 1923 —
ONE HEARS
Close
Of the need for coaching coach owners.
That the Birmingham trolley-buses are praying very profitable.
That more have been ordered.
That cardboard boxes "of any material" must be rather useful and even interesting articles.
That there must be some catch in it somewhere.
That their inventor must be " garnering" a rich harvest.
Of hauliers looking forward to the day when there will be no chance for "non-tariff" firms.
That Inglis Ker saved the Southern visitors from a dull and dismal day in Glasgow last Sunday.
That Capt. F. G. Bristow was called to the Bar last Friday and, thus operm another field for his energies.
That from the point of view of numbers, the coach owners are not very responsive to invitations to confer.
But that they have replied in very large numbers to our recent invitation to declare their views on certain pressing questions.
That rubber block road sal-facings are being laid in the Borough of Holborn, London, two types of blocks being included in the experiments.
That Southampton had a visit on Thursday from the President of the C.M.U.A., who lectured the Chamber of Commerce on road transport.
That the advocates of discovering some means of stabilizing coach rates confess themselves stumped when they come to the question of enforcing local decisions.
That the flexible six-wheeler has not yet secured a definite legal -status, being a single vehicle under some sections of the Order of 1922 and a tractor and trailer under.the Order of 1904.
That "R.T.N." inspires verses more often than he writes them, hence:— " For radiator filling use soft rain water (In our climate it's the easiest-to-gain water). For a nasty coat of lime Furs your passages in time, If you put your trust in well or spring or main water." Of the Solex ad. added to the mileage record.
That, Dublin by any other name would smell as sweet.
Of preparations for the coming motor coach season.
Far-seeing people talking of traffic towers for the Sahara. . • That a learner objects to "light" oils for lubrication as being dangerous.
Of an inquiry as to whether "transmission bands " can he heard by " listeuers-in/' That the new Birmingham-Wolverhampton Road will be a boon when it materializes.
That great interest is going to be Shownin the question of steering six-wheelers in reverse.
That a simple solution of this difficulty has been found by some genius.
Of a beginner who, on hearing of charging stations, said he had found a lamp-post quite bad enough.
That H.R.H. the Duke of York found the representatives of the motor trade in Scotland to be terribly in earnest.
That one-fifth of the total income of the Commercial Motor Users Association is ,spent on the legal defence or its members, That there is no cheaper insurance against excessive police-court fines than membership of the C.M.U.A.
That the Departmental Committee were 'unable earlier to consider the memorandum on the reinstitution of the petrol tax, because the proofs of evidence have only just been lodged.