Training within the industry—the British Electric Traction Co.
30th December 1966
Page 48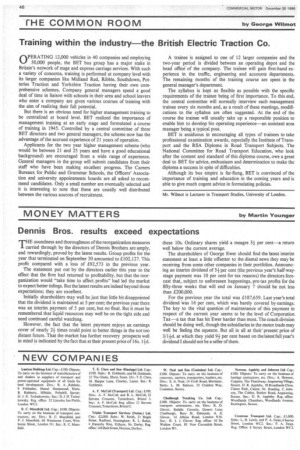 Page 48, 30th December 1966 —
Training within the industry—the British Electric Traction Co.
Close
OPERATING 12,000 vehicles in 40 companies and employing 50,000 people, the BET bus group has a major stake in Britain's network of stage and express carriage services. With such a variety of concerns, training is performed at company level with its larger companies like Midland Red, Ribble, Southdown, Potteries Traction and Yorkshire Traction having their own comprehensive schemes. Company general managers spend a good deal of time in liaison with schools in their area and school leavers who enter a company are given various courses of training with the aim of realizing their full potential.
But there is an obvious need for higher management training to be centralized at board level. BET realized the importance of management training at an early stage and formulated a course of training in 1945. Controlled by a central committee of three BET directors and two general managers, the scheme now has the advantage of the accrued experience of 21 years of operation.
Applicants for the two year higher management scheme (who would be between 21 and 25 years and have a good educational background) are encouraged from a wide range of experience. General managers in the group will submit candidates from their staff who have been making excellent progress. The Careers Bureaux for Public and Grammar Schools, the Officers' Association and university appointments boards are all asked to recommend candidates. Only a small number are eventually selected and it is interesting to note that these are usually well distributed between the various sources of recruitment. A trainee is assigned to one of 12 larger companies and the two-year period is divided between an operating depot and the head office of the company. The trainee will gain first-hand experience in the traffic, engineering and accounts departments. The remaining months of the training course are spent in the general manager's department.
The syllabus is kept as flexible as possible with the specific requirements of the trainee being of first importance. To this end, the central committee will normally interview each management trainee every six months and, as a result of these meetings, modifications to the syllabus are often suggested. At the end of the course the trainee will usually take up a responsible position to enable him to develop his operating experience—an assistant area manager being a typical post.
BET is assiduous in encouraging all types of trainees to take professional examination awards, especially the Institute of Transport and the RSA Diploma in Road Transport Subjects. The National Committee for Road Transport Education, who look after the content and standard of this diploma course, owe a great deal to BET for advice, enthusiasm and determination to make the diploma a success in spite of difficulties.
Although its bus empire is far-flung, BET is convinced of the importance of training and education in the coming years and is able to give much cogent advice in formulating policies.
Mr. Wilmot is Lecturer in Transport Studies, University of London.