a Are the new plating regulations govern
30th December 1966
Page 47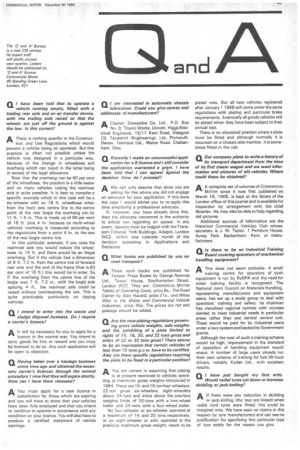 Page 47, 30th December 1966 —
a Are the new plating regulations govern
Close
ing gross vehicle weights, axle weights and the exhibiting of a plate limited to rigids of 15, 16, 20, and 22 tons gross and artics of 22 to 32 tons gross? There seems to be an impression that certain vehicles of less than 15 tons g.v.w. have to be certified. Also are there specific regulations requiring the plate to be fixed in a particular position?
AYou are correct in assuming that plating is at present restricted to vehicles operating at maximum gross weights introduced in 1864 These are 15and 16-ton four-wheelers, 22-ton gross six-wheelers, eight-wheelers above 24-tons and artics above the previous weights limits of 20-tons with a two-wheel trailer and 24-tons with a four-wheel trailer.
No four-wheeler or six-wheeler operated at a maximum of 14 and 20 tons respectively, or an eight-wheeler or artic operated at the previous maximum gross weight, needs to be plated now. But all new vehicles registered after January 1 1968 will come under the same regulations with plating and particular brake requirements. Eventually all goods vehicles will be plated when they have been subject to their annual test.
There is no stipulated position where a plate must be fitted and although normally it is mounted on a chassis side member, it is sometimes fitted in the cab.