W HILE a great deal of thought is devoted to maintenance
30th December 1966
Page 36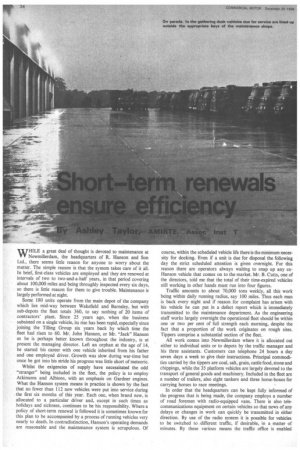 Page 37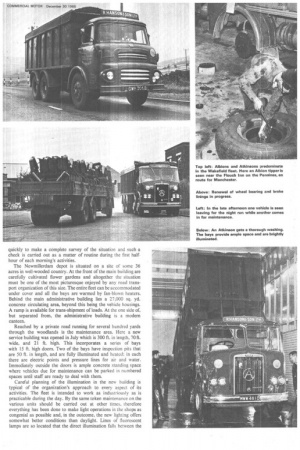 Page 38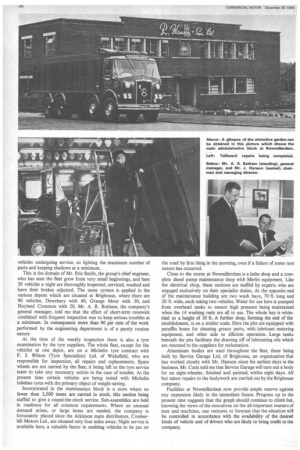 Page 36, 30th December 1966 —
W HILE a great deal of thought is devoted to maintenance
Close
at Newmillerdam, the headquarters of R. Hanson and Son Ltd., there seems little reason for anyone to worry about the matter. The simple reason is that the system takes care of it all. In brief, first-class vehicles are employed and they are renewed at intervals of two to two-and-a-half years, in that period covering about 100,000 miles and being throughly inspected every six days, so there is little reason for them to give trouble. Maintenance is largely performed at night.
Some 180 units operate from the main depot of the company which lies mid-way between Wakefield and Barnsley, but with sub-depots the fleet totals 360, to say nothing of 20 items of contractors' plant. Since 25 years ago, when the business subsisted on a single vehicle, its rise has been rapid, especially since joining the Tilling Group six years back by which time the fleet had risen to 60. Mr. John Hanson, or Mr. "Jack" Hanson as he is perhaps better known throughout the industry, is at present the managing director. Left an orphan at the age of 14, he started his career with one vehicle inherited from his father and one employed driver. Growth was slow during war-time but once he got into his stride his progress was little short of meteoric.
Whilst the exigencies of supply have necessitated the odd "stranger" being included in the fleet, the policy is to employ Atkinsons and Albions, with an emphasis on Gardner engines. What the Hanson system means in practice is shown by the fact that no fewer than 112 new vehicles were put into service during the first six months of this year. Each one, when brand new, is allocated to a particular driver and, except in such times as holidays and sickness, continues to be his responsibility. Where a policy of short-term renewal is followed it is sometimes known for this plan to be accompanied by a process of running vehicles very nearly to death. In contradistinction, Hanson's operating demands are reasonable and the maintenance system is scrupulous. Of course, within the scheduled vehicle life there is the minimum necessity for docking. Even if a unit is due for disposal the following day the strict scheduled attention is given overnight. For this reason there are operators always waiting to snap up any exHanson vehicle that comes on to the market. Mr. B. Cutts, one of the directors, told me that the total of their time-expired vehicles still working in other hands must run into four figures.
Traffic amounts to about 70,000 tons weekly, all this work being within daily running radius, say 100 miles. Thus each man is back every night and if reason for complaint has arisen with his vehicle he can put in a defect report which is immediately transmitted to the maintenance department. As the engineering staff works largely overnight the operational fleet should be within one or two per cent of full strength each morning, despite the fact that a proportion of the work originates on rough sites. Tippers comprise a substantial section of the fleet.
All work comes into Newmillerdam where it is allocated out either to individual units or to depots by the traffic manager and his three assistants. Customers can telephone 24 hours a day seven days a week to give their instructions. Principal commodities carried by the tippers are coal, salt, grain, cattle food, stone and chippings, while the 35 platform vehicles are largely devoted to the transport of general goods and machinery. Included in the fleet are a number of trailers, also eight tankers and three horse-boxes for carrying horses to race meetings.
In order that the headquarters can be kept fully informed of the progress that is being made, the company employs a number of road foremen with radio-equipped vans. There is also telecommunications equipment on certain vehicles so that news of any delays or changes in work can quickly be transmitted in either direction. By use of the radio system it is possible for vehicles to be switched to different traffic, if desirable, in a matter of minutes. By these various means the traffic office is enabled quickly to make a complete survey of the situation and such a check is carried out as a matter of routine during the first halfhour of each morning's activities.
The Newmillerdam depot is situated on a site of some 36 acres in well-wooded country. At the front of the main building are carefully cultivated flower gardens and altogether the situation must be one of the most picturesque enjoyed by any road transport organization of this size. The entire fleet can be accommodated under cover and all the bays are warmed by fan-blown heaters. Behind the main administrative building lies a 27,000 sq. yd. concrete circulating area, beyond this being the vehicle housings. A ramp is available for trans-shipment of loads. At the one side of, but separated from, the administrative building is a modern canteen.
Reached by a private road running for several hundred yards through the woodlands is the maintenance area. Here a new service building was opened in July which is 300 ft. in length, 70 ft. wide, and 21 ft. high. This incorporates a series of bays with 15 ft. high doors. Two of the bays have inspection pits that are 50 ft. in length, and are fully illuminated and heated: in each there are electric points and pressure lines for air and water. Immediately outside the doors is ample concrete standing space where vehicles due for maintenance can be parked in numbered spaces until staff are ready to deal with them.
Careful planning of the illumination in the new building is typical of the organization's approach to every aspect of its activities. The fleet is intended to work as industriously as is practicable during the day. By the same token maintenance on the various units should be carried out at other times, therefore everything has been done to make light operations in the shops as congenial as possible and, in the outcome, the new lighting offers somewhat better conditions than daylight. Lines of fluorescent lamps are so located that the direct illumination falls between the vehicles undergoing service, so lighting the maximum number of parts and keeping shadows at a minimum.
This is the domain of Mr. Eric Smith, the group's chief engineer, who has seen the fleet grow from very small beginnings, and here 30 vehicles a night are thoroughly inspected, serviced, washed and have their brakes adjusted. The same system is applied in the various depots which are situated at Brighouse, where there are 90 vehicles, Dewsbury with 40, Grange Moor with 30, and Hoyland Common with 20. Mr. A. R. Botham, the company's general manager, told me that the effect of short-term renewals combined with frequent inspection was to keep serious troubles at a minimum. In consequence more than 90 per cent of the work performed by the engineering department is of a purely routine nature.
At the time of the weekly inspection there is also a tyre examination by the tyre suppliers. The whole fleet, except for the vehicles at one depot, are on a Michelin tyre contract with F. J. Wilson (Tyre Specialists) Ltd. of Wakefield, who are responsible for inspection, all repairs and replacements. Spare wheels are not carried by the fleet, it being left to the tyre service team to take any necessary action in the case of trouble. At the present time certain vehicles are being tested with Michelin tubeless tyres with the primary object of weight-saving.
Incorporated in the maintenance block is a store where no fewer than 3,500 items are carried in stock, this section being staffed to give a round-the-clock service. Sub-assemblies are held in readiness for all common requirements. Where an unusual demand arises, or large items are needed, the company is fortunately placed since the Atkinson main distributors, Comberhill Motors Ltd., are situated only four miles away. Night service is available here, a valuable factor in enabling vehicles to be put on the road by first thing in the morning, even if a failure of some rare nature has occurred.
Close to the stores at Newmillerdam is a lathe shop and a complete diesel pump maintenance shop with Merlin equipment. Like the electrical shop, these sections are staffed by experts who are engaged exclusively on their specialist duties. At the opposite end of the maintenance building are two wash bays, 70 ft. long and 20 ft. wide, each taking two vehicles. Water for use here is pumped from overhead tanks to ensure high pressure being maintained when the 14 washing reels are all in use. The whole bay is whitetiled to a height of 10 ft. A further shop, forming the end of the establishment, is on a similar scale. Here the pits are equipped with paraffin hoses for cleaning greasy parts, with lubricant metering equipment, and other aids to efficient operation. Large tanks beneath the pits facilitate the drawing off of lubricating oils which are returned to the suppliers for reclamation.
Aluminium bodies are used throughout the fleet, these being built by Service Garage Ltd, of Brighouse, an organization that has worked closely with Mr. Hanson since his earliest days in the business. Mr. Cutts told me that Service Garage will turn out a body for an eight-wheeler, finished and painted, within eight days. AU but minor repairs to the bodywork are carried out by the Brighouse company.
Facilities at Newmillerdam now provide ample reserve against any expansion likely in the immediate future. Progress up to the present time suggests that the graph should continue to climb but, knowing the views of the executives on the all-important matters of men and machines, one ventures to forecast that the situation will be controlled in accordance with the availability of the desired kinds of vehicle and of drivers who are likely to bring credit to the company.