Know-how 7 under that front wing
30th December 1966
Page 30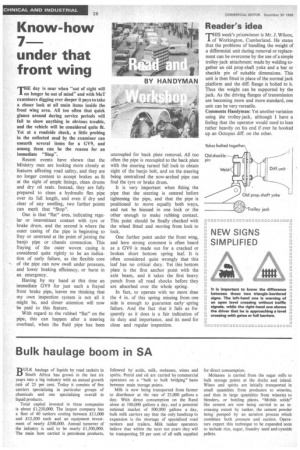 Page 30, 30th December 1966 —
Know-how 7 under that front wing
Close
day is near when "out of sight will no longerbe out of mind" and with MoT examiners digging ever deeper it pays to take a closer look at all main items inside the front wing area. All too often that quick glance around during service periods will fail to show anything in obvious trouble, and the vehicle will be considered quite fit. Yet at a roadside check, a little probing in the collected mud by the examiner can unearth several items for a GV9, and among them can be the reason for an immediate "Stop".
Recent events have shown that the Ministry men are looking more closely at features affecting road safety, and they are no longer content to accept brakes as fit at the sight of ample linings, clean drums and dry oil seals. Instead, they are fully prepared to clean a hydraulic flex pipe over its full length, and even if dry and clear of any swelling, two further points can merit that "Stop".
One is that "flat" area, indicating regular or intermittent contact with tyre or brake drum, and the second is where the outer easing of the pipe is beginning to fray or unstrand at the point of joining the banjo pipe or chassis connection. This fraying of the outer woven casing is considered quite rightly to be an indication of early failure, as the flexible core of the pipe can now swell under pressure, and lower braking efficiency, or burst in an emergency.
Having by my hand at this time an immediate 0V9 for just such a frayed front brake pipe, leaves me thinking that my own inspection system is not all it might be, and closer attention will now be paid to this feature.
With regard to the rubbed "fiat" on the pipe, this can happen after a steering overhaul, when the fluid pipe has been uncoupled for back plate removal. All too often the pipe is recoupled to the back plate with the steering turned full lock to obtain sight of the banjo bolt, and on the steering being centralized the now-arched pipe can foul the tyre or brake drum.
It is very important when fitting the pipe that the steering is centred before tightening the pipe, and that the pipe is positioned to move equally both ways, and not be biassed in one lock or the other enough to make rubbing contact. This point should be finally checked with the wheel fitted and moving from lock to lock.
One further point under the front wing, and here strong comment is often heard as a GV9 is made out for a cracked or broken short bottom spring leaf. It is often considered quite wrongly that this leaf has no critical duty. Yet this bottom plate is the first anchor point with the axle beam, and it takes the first heavy punch from all road shocks before they are absorbed over the whole spring. • In fact, to operate with no more than the 4 in. of this spring missing from one side is enough to guarantee early spring failure. And the fact that it fails as frequently as it does is a fair indication of its duty and importance, and its need for close and regular inspection.