Hydraulic loading for novel meat/livestock carrier
30th December 1966
Page 29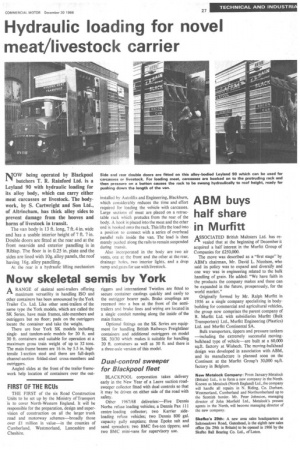 Page 29, 30th December 1966 —
Hydraulic loading for novel meat/livestock carrier
Close
NOW being operated by Blackpool butchers T. R. Rainford Ltd. is a Leyland 90 with hydraulic loading for its alloy body, which can carry either meat carcasses or livestock. The bodywork, by S. Cartwright and Son Ltd., of Altrincham, has thick alloy sides to prevent damage from the hooves and horns of livestock in transit.
The van body is 13 ft. long, 7 ft. 4 in. wide and has a usable interior height of 7 ft. 7 in. Double doors are fitted at the rear and at the front nearside and exterior panelling is in Riblap. The floor is in 0.25 in. plate and the sides are lined with 10g. alloy panels, the roof having 16g. alloy panelling.
At the rear is a hydraulic lifting mechanism installed by A utolifts and Engineering, Blackburn, which considerably reduces the time and effort required for loading the vehicle with carcasses. Large sections of meat are placed on a retractable rack which protudes from the rear of the body. A hook is placed into the meat and the other -end is hooked onto the rack. This lifts the load into a position to connect with a series of overhead parallel rails inside the van. The load is then merely pushed along the rails to remain suspended during transit.
Also incorporated in the body are two air vents, one at the front and the other at the rear, drainage holes, two interior lights, and a drop ramp and gates for use with livestock.