Rear-engined Routemasters for provincial operators?
30th December 1966
Page 23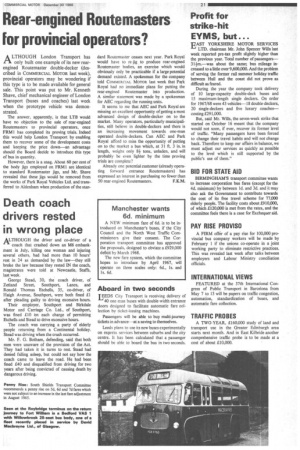 Page 23, 30th December 1966 —
Rear-engined Routemasters for provincial operators?
Close
ALTHOUGH London Transport has only built one example of its new rearengined Routemaster double-decker (described in COMMERCIAL MOTOR last week), provincial operators may be wondering if this type is to be made available for general sale. This point was put to Mr. Kenneth Shave, chief mechanical engineer of London Transport (buses and coaches) last week when the prototype vehicle was demonstrated.
The answer, apparently, is that LTB would have no objection to the sale of rear-engined Routemasters to provincial operators, once FRM1 has completed its proving trials. Indeed this would help London Transport by enabling them to recover some of the development costs and keeping the price down—an advantage should the Board decide to introduce this type of bus in quantity.
However, there is a snag. About 60 per cent of the body jigs employed on FRM1 are identical to standard Routemaster jigs, and Mr. Shave revealed that these jigs would be removed from the works of Park Royal Vehicles Ltd and transferred to Aldenham when production of the stan
dard Routemaster ceases next year. Park Royal would have to re-jig to produce rear-engined Routemaster bodies, an exercise which would obviously only be practicable if a large potential demand existed. A spokesman for the company told COMMERCIAL MOTOR last week that Park Royal had no immediate plans for putting the rear-engined Routemaster into production. A similar statement was made by a spokesman for AEC regarding the running units.
It seems to me that AEC and Park Royal are missing an excellent opportunity of getting a most advanced design of double-decker on to the market. Many operators, particularly municipalities, still believe in double-deckers and there is an increasing movement towards one-man operated double-deckers. Can AEC and Park Royal afford to miss the opportunity of putting on to the market a bus which, at 31 ft. 3 in. in length, weighs only 8+ tons, unladen, and will probably be even lighter by the time proving trials are complete?
Already one potential customer (already operating forward entrance Routemasters) has expressed an interest in purchasing no fewer than
50 rear-engined Routemasters. F.K.M.