'It's a shame'— EM chief reports new profit plunge
30th December 1966
Page 21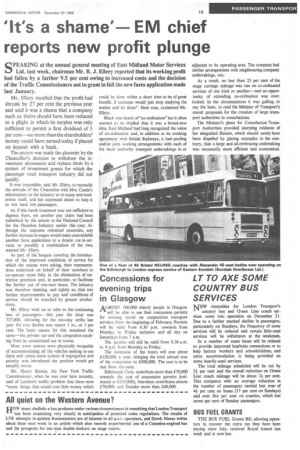 Page 21, 30th December 1966 —
'It's a shame'— EM chief reports new profit plunge
Close
SPEAKING at the annual general meeting of East Midland Motor Services Ltd. last week, chairman Mr. R. J. Ellery reported that its working profit had fallen by a further 9.5 per cent owing to increased costs and the decision of the Traffic Commissioners not to grant in full the new fares application made last January.
Mr. Ellery recalled that the profit had shrunk by 27 per cent the previous year and said it was a shame that a company such as theirs should have been reduced to a plight in which its surplus was only sufficient to permit a first dividend of 5 per cent—no more than the shareholders' money could have earned today if placed on deposit with a bank.
The picture was made the gloomier by the Chancellor's decision to withdraw the investment allowances and replace them by a system of investment grants for which the passenger road transport industry did not qualify.
It was impossible, said Mr. Ellery, to reconcile the attitude of the Chancellor with Mrs. Castle's exhortations to the industry to re-equip and modernize itself, and her expressed desire to help it to win back lost passengers.
As if this harsh treatment was not sufficient to depress them, yet another pay claim had been submitted by the unions to the National Council for the Omnibus Industry earlier this year. Although the outcome remained uncertain, any further increase in wages would make unavoidable another fares application or a drastic cut in services or possibly a combination of the two, warned Mr. Ellery.
As part of the bargain covering the introduction of the improved conditions of service for which the unions were asking, their representatives undertook on behalf of their members to co-operate more fully in the elimination of restrictive practices and, in particular, to facilitate the further use of one-man buses. The industry was therefore insisting, and rightly so, that any further improvements in pay and conditions of service should be matched by greater productivity.
Mr. Ellery went on to refer to the continuing loss of passengers--this year the drop was 727,000. Allowing for the two-day strike last year the true decline was nearer 1 m., or 3 per cent. The basic causes for this remained the same—the private car and the congestion resulting from its unrestricted use in towns.
Most town centres were physically incapable of accommodating all the vehicles seeking to use them and unless some system of segregation and priority was introduced the position would get steadily worse.
Mr. Henry Barnes, the New York Traffic Commissioner, when he was over here recently, said of London's traffic problem that there were "many things that would cost little money which
could be done within a short time to be of great benefit, if someone would just stop studying the matter and do them". How true, exclaimed Mr. Ellery.
Much was heard of "co-ordination" but it often seemed to be implied that it was a brand-new idea. East Midland had long recognized the value of co-ordination and, in addition to its working agreement with British Railways, it had pooling and/or joint working arrangements with each of the local authority transport undertakings in or
adjacent to its operating area. The company had similar arrangements with neighbouring company undertakings, too.
As a result, no less than 25 per cent of the stage carriage mileage was run on co-ordinated services of one kind or another—and no opportunity of extending co-ordination was overlooked. In the circumstances it was galling, to say the least, to read the Minister of Transport's recent proposals for the creation of large transport authorities in conurbations.
The Minister's plans for Conurbation Transport Authorities provided alarming evidence of her misguided illusion, which should surely have been dispelled by glaring examples to the contrary, that a large and all-embracing undertaking was necessarily more efficient and economical.