J. H. Benison has been appointed finance director on the
30th December 1966
Page 19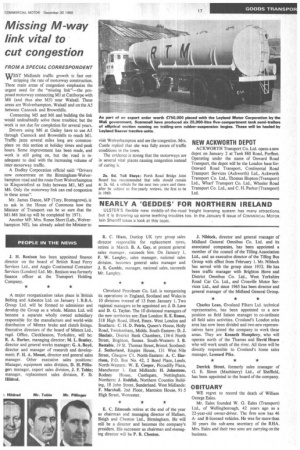 Page 19, 30th December 1966 —
J. H. Benison has been appointed finance director on the
Close
board of British Road Ferry Services Ltd., and Anglo Continental Container Services (London) Ltd. Mr. Benison was formerly finance officer at the Transport Holding Company.
A major reorganization takes place in 'British Belting and Asbestos Ltd. on January I. B.B.A. Group Ltd. will be formed to administer and develop the Group as a whole. Mintex Ltd. will become a separate wholly owned subsidiary responsible for the manufacture and world-wide distribution of Mintex brake and clutch linings. Executive directors of the board of Mintex Ltd., regd. Office, Cleckheaton, Yorkshire, will be: R. A. Barber, managing director; M. L. Bentley, director and general works manager; G. A. Boyd, director and manager of research and development; P. H. A. Mount, director and general sales manager. Other executive sales positions: Manager, equipment sales division, D. H. Pillinger; manager, export sales division, J. F. Tobin; manager, replacement sales division, F. D. Hildred.
R. C. Hiam, Dunlop UK tyre group sales director responsible for replacement tyres. retires in March. B. A. Gay, at present general sales manager. succeeds him. On January 1, F. W. Langley, sales manager, national sales division, becomes general sales manager and J. S. Gamble, manager, national sales, succeeds Mr. Langley.
Cleveland Petroleum Co. Ltd. is reorganizing its operations in England, Scotland and Wales in 10 divisions instead of 13 from January 1. Two regional managers to be appointed are J. D. Love and D. G. Taylor. The 10 divisional managers of the new territories are: East London: R. E. Rouse, 318 High Road, Ilford, Essex. West London and Southern: C. H. D. Petrie, Queen's House, Holly Road, Twickenham, Middx. South-Eastern: D. J. Sinclair, District Bank Chambers, 134-6 North Street, Brighton, Sussex. South-Western: I. B. Bastable, 19 St. Thomas Street, Bristol. Scotland: J. Sutherland, Empire House, 131 West Nile Street, Glasgow Cl. North-Eastern: A. C. Harrison, P.O. Box No. 42, 2 Bond Place, Leeds. North-Western: W. E. Cooper, Piccadilly Plaza, Manchester I. East Midlands: H. Johnstone, Rodney House, Castlegate, Nottingham. Northern: J. Reddish, Northern Counties Building, 18 John Street, Sunderland. West Midlands: F. Marshall, 2nd Floor, Marmion House, 91-5 High Street, Worcester.
E. C. Edmonds retires at the end of the year as chairman and managing director of Hallam, Sleigh and Cheston Ltd., Birmingham. He will still be a director and becomes the company's president. His successor as chairman and managing director will be P. B. Cheston. J. Niblock, director and general manager of Midland General Omnibus Co. Ltd. and its associated companies, has been appointed a member of the council of the Tilling Association Ltd., and an executive director of the Tilling Bus Group with effect from February 1. Mr. Niblock has served with the group since 1932. He has been traffic manager with Brighton Hove and District Omnibus Co. Ltd., West Yorkshire Road Car Co. Ltd., and Crosville Motor Services Ltd., and since 1965 has been director and general manager of the Midland General Group.
Charles Lean, Crosland Filters Ltd. technical representative, has been appointed to a new position as field liaison manager to co-ordinate all field sales activities. Crosland's London sales area has now been divided and two new representatives have joined the company to work these areas. They are Kenneth Humphrey, who will operate north of the Thames and David Hearn who will work south of the river. All three will be directly responsible to Crosland's home sales manager, Leonard Pike.
Derrick Street, formerly sales manager of G. E. Simm (Machinery) Ltd., of Sheffield, has been appointed to the board of the company.
Tags
People
:
R. C. Hiam
,
W. Langley
,
G. A. Boyd
,
J. H. Benison
,
Charles Lean
,
J. S. Gamble
,
Kenneth Humphrey
,
M. L. Bentley
,
J. Niblock
,
H. A. Mount
,
David Hearn
,
H. D. Petrie
,
F. W. Langley
,
Brighton Hove
,
Leonard Pike
,
R. A. Barber