FROM A SPECIAL CORRESPONDENT ' WEST Midlands traffic growth is
30th December 1966
Page 19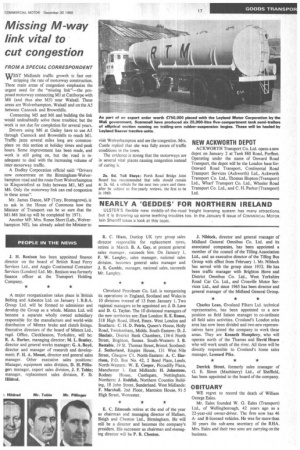 Page 19, 30th December 1966 —
FROM A SPECIAL CORRESPONDENT ' WEST Midlands traffic growth is
Close
Keywords :
Counties Of England
,
Geography Of England
,
Subdivisions Of England
,
Transport In Birmingham, England
,
Staffordshire
,
Wolverhampton
,
Motorway
,
Brownhills
,
West Midlands
,
Cannock
,
Walsall
,
M1 Motorway
fast out \J EST the rate of motorway construction. Three main areas of congestion emphasize the urgent need for the "missing link"—the proposed motorway connecting M1 at Catthorpe with M6 (and thus also M5) near Walsall. These areas are Wolverhampton, Walsall and on the AS between Cannock and Brownhills.
Connecting M5 and M6 and building the link would undoubtedly solve these troubles; but the work is not due for completion for several years.
Drivers using M6 at Gailey have to use A5 through Cannock and Brownhills to reach Ml. Traffic jams several miles long are commonplace on this section at holiday times and peak hours. Some improvement has been made, and work is still going on, but the road is inadequate to deal with the increasing volume of inter-motorway traffic.
A Dudley Corporation official said: "Drivers now concentrate on the Birmingham-Wolverhampton road and the route from Wolverhampton to Kingswinford as links between Ml, M5 and M6. Only the motorway link can end congestion in these areas".
Mr. James Dance, MP (Tory, Bromsgrove), is to ask in the House of Commons how the Minister of Transport can be so sure that the MI-M6 link-up will be completed by 1971.
Another MP, Mrs. Renee Short (Lab., Wolverhampton NE), has already asked the Minister to
visit Wolverhampton and see the congestion. Mrs. Castle replied that she was fully aware of traffic conditions in the town.
The evidence is strong that the motorways are in several vital places causing congestion instead of curing it.
2s. 6d. Toll Stays: Forth Road Bridge Joint Board has recommended that tolls should remain at 2s. 6d. a vehicle for the next two years and thereafter be subject io five yearly reviews, the first to be in 1969.
NEW ACKWORTH DEPOT
AC KWORTH Transport Co. Ltd. opens anew depot on January 2 at Tank Hill Road, Purfleet. Operating under the name of Onward Road Transport, the depot will be the London base for Onward Road Transport, Continental Road Transport Services (Ackworth) Ltd., Acicworth Transport Co. Ltd., Thomas Hopton (Transport) Ltd., Wharf Transport Co. Ltd., Wheeler Road Transport Co. Ltd., and C. IL Parker (Transport) Ltd.