KEY MOVES TO NEW THREE-ACRE DEPOT
30th December 1966
Page 18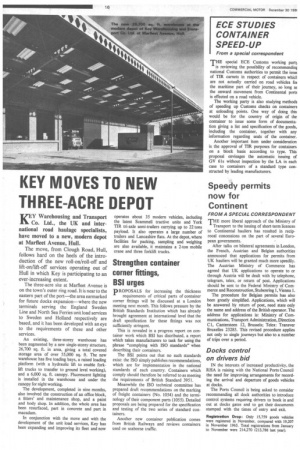 Page 18, 30th December 1966 —
KEY MOVES TO NEW THREE-ACRE DEPOT
Close
icy Warehousing and Transport Co. Ltd., the UK and international road haulage specialists, have moved to a new, modern depot at Marfleet Avenue, Hull.
The move, from Clough Road, Hull, follows hard on the heels of the introduction of the new roll-on/roll-off and lift-on/lift-off services operating out of Hull in which Key is participating to an ever-increasing extent.
The three-acre site at Marfleet Avenue is on the town's outer ring road. It is near to the eastern part of the port—the area earmarked for future docks expansion—where the new terminals serving the England Sweden Line and North Sea Ferries unit load services to Sweden and Holland respectively are based, and it has been developed with an eye to the requirements of these and other services.
An existing, three-storey warehouse has been augmented by a new single-storey structure, 26,700 sq. ft. in area, giving a total covered storage area of over 55,000 sq. ft. The new warehouse has five loading bays, a raised loading platform (with a hydraulic lift to enable forklift trucks to transfer to ground level working), and a 6,000 sq. ft. canopy. Fluorescent lighting is installed in the warehouse and under the canopy for night working.
The development, completed in nine months, also involved the construction of an office block, a titters' and maintenance shop, and a paint and body shop. In addition, the whole area has been resurfaced, part in concrete and part in macadam.
In conjunction with the move and with the development of the unit load services, Key has been expanding and improving its fleet and now operates about 35 modern vehicles, including the latest Scammell tractive units and York TIR tri-axle semi-trailers carrying up to 22 tons payload. It also operates a large number of trailers and Lancashire flats. At the depot, where facilities for packing, sampling and weighing are also available, it maintains a 2-ton mobile crane and three forklift trucks.
Strengthen container corner fittings, BSI urges
p ROPOSALS for increasing the thickness requirements of critical parts of container corner fittings will be discussed at a London meeting next month. This follows pressure by the British Standards Institution which has already brought agreement at international level that the draft specification for these fittings was not sufficiently stringent.
This is revealed in a progress report on container work which BSI has distributed, a report which takes manufacturers to task for using the phrase "complying with ISO standards" when describing their containers.
The BSI points out that no such standards exist: the ISO simply publishes recommendations, which are for implementation in the national standards of each country. Containers which comply should therefore be referred to as meeting the requirements of British Standard 3951.
Meanwhile the ISO technical committee has prepared draft recommendations on the marking of freight containers (No. 1054) and the terminology of their component parts (1055). Detailed proposals are being prepared for the specification and testing of the two series of standard containers.
Another new container publication comes from British Railways and reviews containers used on seaborne traffic.