TAXI WAR IN DUNDEE
30th December 1938
Page 49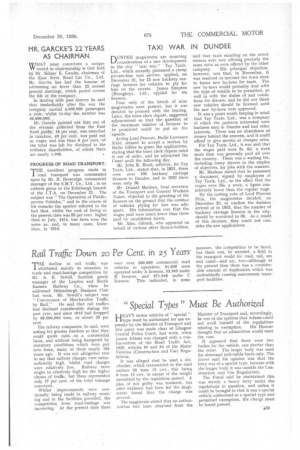 Page 49, 30th December 1938 —
TAXI WAR IN DUNDEE
Close
DUNDEE magistrates are resuming consideration of a new development in the city " taxi war." Tay Taxis, Ltd., which recently pioneered a cheap private-hire taxi service, applied, on December 21, for 15 new hackney carriage licences for vehicles to ply for hire on the streets. James Simpson (Broughty), Ltd., applied for six
licences. • Four only of the bench of nine magistrates were present, but it was decided to proceed with the hearing. Later, the town clerk depute, suggested adjournment so that the question of the maximum number of licences to be permitted could be put on the agenda.
Acting Lord Provost, Bailie Lawrence Kidd, refused to accept a motion by Bailie Gullies to grant the applications, stating that-the town clerk depute ruled it out of order, and he adjourned the Court until the following day.
Mr. John R. Bond, solicitor, for Tay Taxis, Ltd., stated that, in 1921, there were over 100 hackney carriage licences in Dundee, and in 1933 there were only 36.
Mr. Donald Maclean, local secretary of the Transport and General Workers Union, objected to the granting of the licences on the ground that the number of vehicles plying for hire was adequate. His information was that the wages paid were much lower than those paid by established hirers. Mr. 'Alex. Gilruth, who appeared on behalf of various other licence-holders, said that taxis standing on the street stances were now offering precisely the same rates as were offered by the other company. His principal objection. however, was that, in November, it was resolved to instruct the town clerk to frame new by-laws for taxis. The new by-laws would probably deal with the type of vehicle to be permitted, as well as with the duties of and conditions for drivers, and he did not think new vehicles should be licensed until the new by-laws were approved.
It was a point worth keeping in mind that Tay Taxis, Ltd., was a company of which the partners interested were .business men in Dundee and had other interests. There was an abundance of money behind the concern, and it could afford to give service at cheaper rates.
For Tay Taxis, Ltd., it was said that the wages paid were 2s. fid. a week more than was generally paid all over the country. There was a waiting list, including many drivers in the employ of objectors, for jobs with the concern.
Mr. Maclean stated that he possessed a document, signed by employees of Tay Taxis, Ltd., to the effect that the wages were 35s. a week, a figure considerably lower than the regular wage.
By the casting vote of Lord Provost Phin, the magistrates decided, on December 23, to confirm the decision arrived at in 1933, that the number of hackney carriage licences in the city, should be restricted to 36. As a result of this decision, they could not consider the new applications.