Rail Traffic - Down 20 Per Cent. in 25 Years" T HE
30th December 1938
Page 49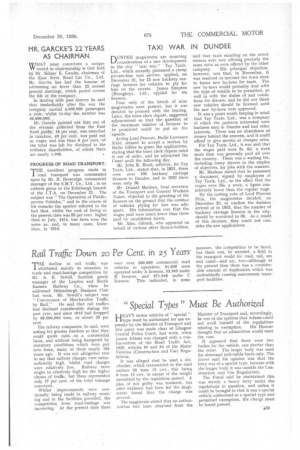 Page 49, 30th December 1938 —
Rail Traffic - Down 20 Per Cent. in 25 Years" T HE
Close
decline in rail traffic was I attributed mainly to recession in trade and road-haulage competition by Mr. A. E. Sewell, Scottish goods manager of the London and North Eastern Railway Co., when he addressed Helensburgh Business Club last week. Mr. Sewell's subject was "Conveyance of Merchandise Traffic
by Rail." He said that rail traffics had declined considerably during. the past year, and since 1913 had dropped by 69,000,000 tons, or about 20 per cent.
The railway companies, he said, were asking for greater freedom so that they could quote rates on a commercial basis, and without being hampered by statutory conditions which were put into force, many of them nearly 100 years ago. It was not altogether true to say that railway charges were extraordinarily high, whilst road charges were relatively low. Railway rates might be relatively high for the higher classes of traffic, but these represented only 17 per cent. of the total tonnage conveyed.
Whilst improvements were continually being made in railway working and in the facilities provided, the competition from road-haulage was increasing. At the present time there were over 500,000 commercial road vehicles in operation; 91,656 were operated under A licences, 53,945 under B licences, and 371,948 under C licences. This indicated, in some measure, the competition to be faced, but there was, he stressed, a field in the transport world for road, rail, sea and canal—and air, too—although at the present time there was a considerable amount of duplication which was undoubtedly causing uneconomic transport facilities.