One Hears
30th December 1938
Page 25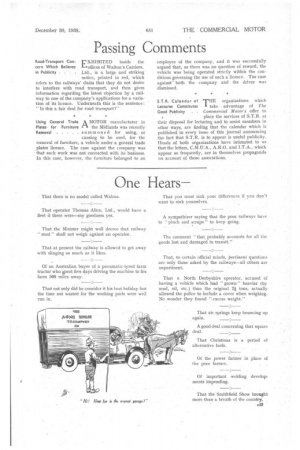 Page 25, 30th December 1938 —
One Hears
Close
• That there is no model called Walrus.
That operator Thomas Allen, Ltd., would have a fleet if there were—my goodness yes.
That the Minister might well decree that railway " mud " shall not weigh against an operator.
That at present the railway is allowed to get away with slinging as much as it likes.
Of an Australian buyer of a pneumatic-tyred farm tractor who Went five days driving the machine to his farm 300 miles away.
That not only did he consider it his best holiday but the time not wasted for the working parts were well run in. That you must sink your differences if you don't want to sink yourselves.
A sympathizer saying that the poor railways have to " pinch and scrape" to keep going.
The comment "that probably accounts for all the goods lost and damaged in transit."
That, to certain official minds, pertinent questions
are only those asked by the railways all others are impertinent.
That a North Derbyshire operator, accused of having a vehicle which had "grown" heavier (by mud; oil, etc.) than the original 21 tons, actually allowed the police to include a cover when weighing. No wonder they found " excess weight."
That air springs keep bouncing up again.
A good deal concerning that square deal.
That Christmas is a period of alternative fuels.
Of the power farrner in place of the poor farmer.
Of important welding developments impending.
That the Smithfield Show brought more than a breath of the country.