Poll hard on ITBs
30th August 1980
Page 7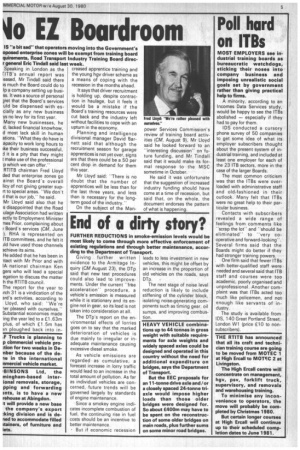 Page 7, 30th August 1980 —
Poll hard on ITBs
Close
MOST EMPLOYERS see industrial training boards as bureaucratic watchdogs, sticking their noses into company business and imposing unrealistic social goals set by government rather than giving practical help to firms.
A minority, according to an Incomes Data Services study, would be happy to see the ITBs abolished — especially if they had to pay for them.
IDS conducted a cursory phone survey of 50 companies to get some idea of what its employer subscribers thought about the present system of industrial training, and included at least one employer for each of the 23 ITB sectors, more in the case of the larger Boards.
The most common criticism was that the ITBs were overloaded with administrative staff and old-fashioned in their outlook. Many felt that ITBs were no great help to their particular business.
Contacts with subscribers revealed a wide range of feelings from comments like -scrap the lotand "should be eliminated" to "very cooperative and forward-looking". Several firms said that the Boards might do better if they had stronger training powers.
One firm said that fewer IT Bs with better-qualified staff were needed and several said that ITB staff and courses were too academic, poorly organised and
unprofessional. Another complaint was that ITBs acted too much like policemen, and not enough like servants of industry.
The study is available from IDS, 140 Great Portland Street, London W1 (price £10 to nonsubscribers).