lntertruck Ltd Articulated fleet maintenance programme. Planning an effective maintenance
30th August 1980
Page 51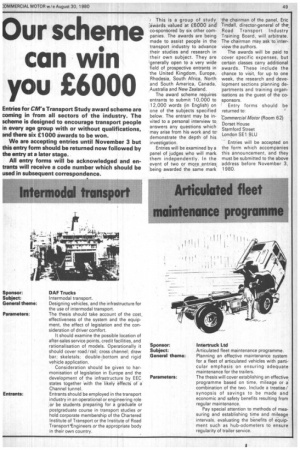 Page 51, 30th August 1980 —
lntertruck Ltd Articulated fleet maintenance programme. Planning an effective maintenance
Close
system for a fleet of articulated vehicles with particular emphasis on ensuring adequate maintenance for the trailers.
The thesis will cover establishing an effective programme based on time, mileage or a' combination of the two. Include a treatise/ synopsis of savings to be made and economic and safety benefits resulting from regular maintenance.
Pay special attention to methods of measuring and establishing time and mileage intervals, evaluating the benefits of equipment such as hub-odometers to ensure regularity of trailer service.