Cut rates and cut your throat warning
30th August 1980
Page 5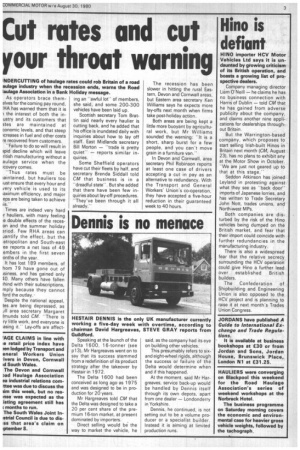 Page 5, 30th August 1980 —
Cut rates and cut your throat warning
Close
INDERCUTTING of haulage rates could rob Britain of a road aulage industry when the recession ends, warns the Road laulage Association in a Bank Holiday message.
As operators brace themelves for the coming pay round, :HA has warned them that it is the interest of both the inustry and its customers that 3tes are maintained at conomic levels, and that steep icreases in fuel and other costs re recovered from customers.
"Failure to do so will result in ipid decline which will leave ritish manufacturing without a aulage service when the covery comes.
"Thus rates must be laintained, but hauliers too lust ensure that every hour and very vehicle is used to its laximum efficiency, and major eps are being taken to achieve
Times are indeed very hard sr hauliers, with many feeling le double effects of the receson and the summer holiday ariod. Few RHA areas can oantify the effect, but the letropolitan and South-east .ea reports a net loss of 49
embers in the first seven onths of the year.
It has lost 189 members, of horn 79 have gone out of isiness, and has gained only O. Many others have fallen :hind with their subscriptions, mply because they cannot ford the outlay.• Despite the national appeal, tes are being depressed, as ill area secretary Margaret imunds told CM. "'There is Ty little work, and everyone is lasing it.'" Lay-offs are affect ing an "awful lot of members, she said, and some 200-300 vehicles have been laid up.
Scottish secretary Tom Brattin said nearly every haulier is cutting back, and he added that his office is inundated daily with inquiries about how to lay off staff. East Midlands secretary Bill Morton — "trade is pretty quiet"' — reports similar inquiries.
Some Sheffield operators have cut their fleets by half, and secretary Brenda Siddall told CM that business is in a "dreadful state". But she added that there have been few inquiries about lay-off procedures. "They've been through it all already." The recession has been slower in hitting the rural Eastern, Devon and Cornwall areas, but Eastern area secretary Ken Williams says he expects more lay-offs next month when firms take post-holiday action.
Both areas are being kept a little more buoyant by agricultural work, but Mr Williams sounded the warning: "It is a short, sharp burst for a few people, and you can't move grain in a furniture van."
In Devon and Cornwall, area secretary Phil Robinson reports at least one case of drivers accepting a cut in pay as an alternative to redundancy. With the Transport and General Workers' Union's co-operation, they have accepted a five-hour reduction in their guaranteed week to 40 hours.