OVERSEAS CONTRACTS.
30th August 1917
Page 2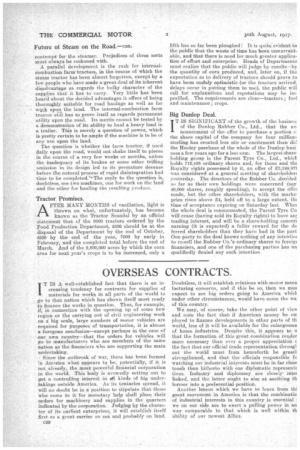 Page 2, 30th August 1917 —
OVERSEAS CONTRACTS.
Close
IT IS A well-established fact that there is an increaming tendency for contracts for supplies of materials for works in all parts of the world to go to that nation which has shown itself most ready to finance the works in question. -Thus, for example, if, in connection with the opening up of some new region or the carrying out of civil eegineering work on a big scale, large numbers of motor vehicles are required for purposes of transportation, it is almost a foregone conclusion—encept perhaps in the case of Our own country—that the orders for vehicles will go to manufacturers who are members of -the same nation as the financiers who are supporting the main undertaking. , Since the outbreak of war, there has been formed in Ainerica what appears to be, potentially, if it is net already, the most powerful.finincial corporation in the world. .This body is avowedly setting out to get a controlling interest in tell kinds of big undertakings outside America. As its tentacles spread, it will no doubt be in a position to stipulate that those who come to it for monetary help shall place their orders for machinery -and supplies in the quarters indicated by the carporation. Judging by the character of its earliest enterprises, it will establish itself first as a gre-at carrier on sea and probably on land.
e20 Doubtless, it will establish relations with motor menu faeturing concerns, and if this be so, then we mus expect to see big orders going to America which under other circumstances, would have come the wa of this country.
We may, of course, take the other point of view and note the fact that if American money be em p/oyed to finance developments in other parts of th world, less of it will be available for the enlargeenen of home. industries. Despite this, it appears to u that the formation of this great combination render more necessary than ever a proper appreciation c the fact that our official trade representation. througl out the world must from henceforth be great' strengthened, and that the officials responsible fa watching our industrial interests must be in far close touch than hitherto with our diplomatic represent4 tives. Industry and diplomacy are closely intei linked, and the latter ought to aim at assiAting th former into a preferential position. Another lesson which we have to learn from tin great movement in America is that the oonabinatio of industrial interests in this country is essential : we on our side are to exert a pulling power in au way comparable to that which is well within th ability of our newest Allies.