Garage blamed for GV9s
30th April 1971
Page 24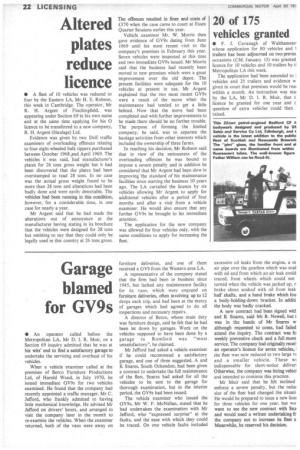 Page 24, 30th April 1971 —
Garage blamed for GV9s
Close
• An operator called before the Metropolitan LA, Mr D. I. R. Muir, on a Section 69 inquiry admitted that he was at his wits' end to find a satisfactory garage to undertake the servicing and overhaul of his vehicles.
When a vehicle examiner called at the premises of Berco Furniture Productions Ltd, of Harold Wood, in July 1970, he issued immediate GV9s for two vehicles examined. He found that the company had recently appointed a traffic manager, Mr C. Jefford, who frankly admitted to having little mechanical knowledge. He advised Mr Jefford on drivers' hours, and arranged to visit the company later in the month to re-examine the vehicles. When the examiner returned, both of the vans were away on furniture deliveries, and one of them received a GV9 from the Western area LA.
A representative of the company stated that the firm had been in business since 1945, but lacked any maintenance facility for its vans, which were engaged on furniture deliveries, often involving up to 12 drops each trip, and had been at the mercy of garages which had agreed to do all inspections and necessary repairs.
A director of Berco, whose main duty was furniture design, said he felt that he had been let down by garages. Work on the vehicles supposed to have been done by a garage in Romford was "most unsatisfactory", he claimed.
Mr Jefford had asked a vehicle examiner if he could recommend a satisfactory garage, and one of three suggested, A and K Snares, South Ockendon, had been given a contract to undertake the full maintenance of the fleet. Snares had asked for all the vehicles to be sent to the garage for thorough examination, but in the interim period, the GV9s had been issued.
The vehicle examiner who issued the GV9s, Mr W. F. McNellan, stated that he had undertaken the examination with Mr Jefford, who "expressed surprise" at the faults, and the ease with which they could be traced. On one vehicle faults included excessive oil leaks from the engine, a m air pipe over the gearbox which was soal with oil and from which an air leak could traced, front wheels which could not turned when the vehicle was jacked up, r brake shoes soaked' with oil from leak half shafts, and a hand brake which fou a body-holding-down bracket. In ackiiti the body was badly cracked.
A new contract had been signed witt and K Snares, said Mr B. Newell, but was in the hands of Mr Snares w although requested to come, had failed attend the inquiry. The contract was fc weekly preventive check and a full mont service. The company had originally recet an operator's licence for seven vehicles, 1 the fleet was now reduced to two large vl and a smaller vehicle. These wi indispensable for short-notice deliver Otherwise, the company was hiring vehic1 and intended to continue this practice.
Mr Muir said that he felt inclined enforce a severe penalty, but the recha size of the fleet had changed the situati He would be prepared to issue a new licei for three vehicles for one year, but wo want to see the new contract with Stu and would need a written undertaking ft the company not to increase its fleet s Meanwhile, he reserved his decision.