Breaking the grain code
2nd September 1999
Page 7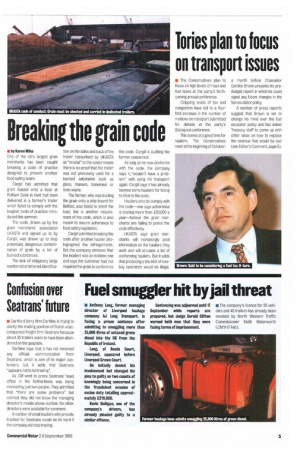 Page 7, 2nd September 1999 —
Breaking the grain code
Close
• by Karen Miles One of the UK's largest grain merchants has been caught breaking a code of practice designed to prevent another food safety scare.
Cargill has admitted that grain loaded onto a boat at Ridham Dock in Kent had been delivered in a farmer's trailer which failed to comply with the tougher code of practice introduced this summer.
The code, drawn up by the grain merchants' association UKASTA and signed up to by Cargill, was drawn up to stop potentially dangerous contamination of grain by a list of banned substances.
The lack of obligatory large numbered or lettered identifica
tion on the sides and back of the trailer (described by UKASTA as "crucial" to the code) means there is no proof that the trailer was not previously used for a banned substance such as glass, manure, bonemeal or toxic waste.
The farmer, who was loading the grain onto a ship bound for Belfast, also failed to sheet the load; this is another requirement of the code, which is also meant to ensure adherence to food safety legislation.
Cargill admitted breaking the code after another haulier photographed the infringements. But the company stresses that the incident was an isolated one and says the customer had not required the grain to conform to the code. Cargill is auditing the farmer concerned.
As long as he now conforms with the code, the company says it."wouldn't have a problem" with using his transport again. Cargill says it has already banned some hauliers for failing to stick to the code.
Hauliers who do comply with the code—one says adherence is costing more than £30,000 a year—believe the grain merchants are failing to police the code effectively.
UKASTA says grain merchants will increasingly pool information on the hauliers they audit and will circulate a list of conforming hauliers. But it adds that producing a blacklist of cowboy operators would be illegal.