The use of a forged tax disc and failing to
2nd September 1999
Page 21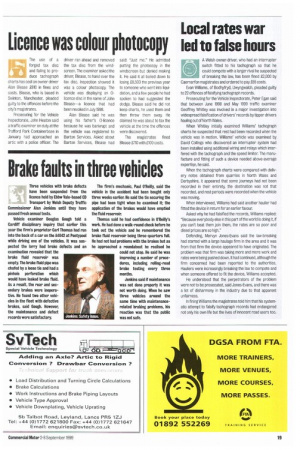 Page 21, 2nd September 1999 —
The use of a forged tax disc and failing to
Close
produce tachograph cnarts has cost an owner-driver Alan Blease £810 in fines and costs. Blease, who is based in Swinton, Manchester, pleaded guilty to the offences before the City's magistrates.
Prosecuting for the Vehicle Inspectorate, John Heaton said a traffic examiner on duty at the Trafford Park Containerbase in January had approached an artic with a police officer. The
driver ran ahead and removed the tax disc from the windscreen. The examiner asked the driver, Blease, to hand over the tax disc. Inspection showed it was a colour photocopy. The vehicle was displaying an 0licence disc in the name of John Blease—a licence that had been revoked in July1998.
Alan Blease said he was using his father's 0-licence because he was bankrupt and the vehicle was registered to Barton Services. Asked about Barton Services, Blease had said: "Just me." He admitted putting the photocopy in the windscreen but denied making it. He said it all boiled down to losing 28,500 the previous year to someone who went into liquidation, and a few people he had spoken to had suggested the dodge. Blease said he did not keep charts, he used them and then threw them away. He claimed he was about to tax the vehicle at the time the offences were discovered.
The magistrates fined Blease £710 with 2100 costs.