Brake faults in three vehicles
2nd September 1999
Page 21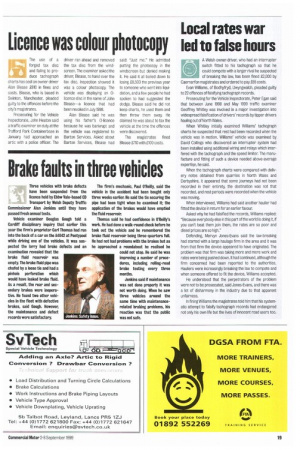 Page 21, 2nd September 1999 —
Brake faults in three vehicles
Close
Three vehicles with brake defects have been suspended from the licence held by Ebbw Vale-based CD Transport by Welsh Deputy Traffic Commissioner Alan Jenkins until they have passed fresh annual tests.
Vehicle examiner Douglas Gough told a Cardiff disciplinary inquiry that earlier this year the firm's proprietor Carl Thomas had run into the back of a car on the A4042 at Pontypool while driving one of the vehicles. It was suspected the lorry had brake defects and an examination revealed that the brake fluid reservoir was empty. The brake fluid pipe was chafed by a loose tie and had a pinhole perforation which would have leaked brake fluid. As a result, the rear and secondary brakes were inoperative. Ile found two other vehicles in the fleet with defective brakes, said Gough. However, the maintenance and defect records were satisfactory.
The firm's mechanic, Paul O'Reilly, said the vehicle in the accident had been bought only three weeks earlier. He said the tie securing the pipe had been tight when he examined it; the application of the brakes would have emptied the fluid reservoir.
Thomas said he had confidence in O'Reilly's work. He had done a walk-round check before he took out the vehicle and he remembered the brake fluid reservoir being three-quarters full. He had not had problems with the brakes but as he approached a roundabout he realised he could not stop. He said he was improving a number of procedures, including rolling-road brake testing every three months.
Jenkins said if maintenance was not done properly it was not worth doing. When he saw three vehicles around the same time with maintenancerelated braking problems, his reaction was that the public was not safe.