CASE STUDY ESSEX HAY AND STRAW
2nd October 2008
Page 56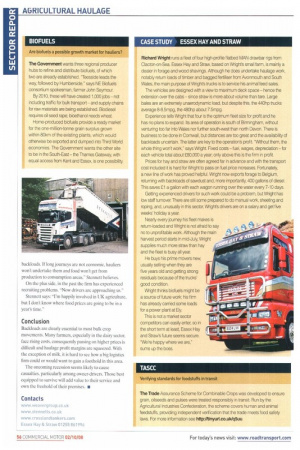 Page 56, 2nd October 2008 —
CASE STUDY ESSEX HAY AND STRAW
Close
Richard Wright runs a fleet of four high-profile flatbed MAN drawbar rigs from Clacton-on-Sea. Essex Hay and Straw, based on Wright's small farm, is mainly a dealer in forage and wood shavings. Although he does undertake haulage work, notably return loads of timber and bagged fertiliser from Avonmouth and South Wales, the main purpose of Wright's trucks is to service his animal feed sales.
The vehicles are designed with a view to maximum deck spacehence the extension over the cabssince straw is more about volume than tare. Large bales are an extremely unaerodynamic load, but despite this. the 440hp trucks average 8-8.5mpg, the 480hp about 7.5mpg.
Experience tells Wright that four is the optimum fleet size for profit and he has no plans to expand. Its area of operation is south of Birmingham, without venturing too far into Wales nor further south-west than north Devon. There is business to be done in Cornwall, but distances are too great and the availability of backloads uncertain. The latter are key to the operation's profit. "Without them, the whole thing won't work," says Wright. Fixed costs -fuel, wages, depreciation -for each vehicle total about E80,000 a year; only above this is the firm in profit.
Prices for hay and straw are often agreed far in advance and with the transport cost included it is hard for Wright to pass on fuel price increases. Fortunately, a new line of work has proved helpful. Wright now exports forage to Belgium, returning with backloads of sawdust and, more importantly, 400 gallons of diesel. This saves E1 a gallon with each wagon running over the water every 7-10 days.
Getting experienced drivers for such work could be a problem, but Wright has low staff turnover. There are still some prepared to do manual work, sheeting and roping, and, unusually in this sector, Wright's drivers are on a salary and get five weeks' holiday a year.
Nearly every journey his fleet makes is return-loaded and Wright is not afraid to say no to unprofitable work. Although the main harvest period starts in mid-July, Wright supplies much more straw than hay and the fleet is busy all year.
He buys his prime movers new, usually selling when they are five years old and getting strong residuals because of the trucks' good condition.
Wright thinks biofuels might be a source of future work; his firm has already carried some loads for a power plant at Ely.
This is not a market sector competitors can easily enter, so in the short term at least, Essex Hay and Straw's future seems secure. "We're happy where we are," sums up the boss.