A ONE-SEATER TAXICAB.
2nd October 1923
Page 9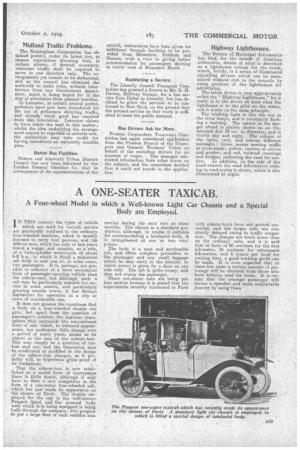 Page 9, 2nd October 1923 —
A ONE-SEATER TAXICAB.
Close
A Four-wheel Model in which a Well-known Light Car Chassis and a Special Body are Employed.
I N THIS country the types of vehicle which are used for taxicab service are practically confined to the ordinary four-wheeled machine, which is usually licensed to carry four persons, and the sidecar-taxi, which has only of late years found a vogue, and consists, as a rule, of a twin-cylinder motorcycle of about 6-8 hp, to which is fitted a miniature cab body to seat one or, in some cases, two passengers. It is, perhaps, not possible to conceive of a more economical form of passenger-carrying vehicle than the sidecar-taxi, but although such a cab may be particularly suitable for service in some centres, and particularly growing seaside towns, it has distinct limitations for operation in a city or town of considerable size.
It does not possess the roominess that a body on a four-wheeled chassis can give, but apart from the question of passenger's comfort, the business atmosphere that surrounds the conventional form of cab, which, to outward appearances, has undergone little change over a period of many years, seems to be absent in the case of the sidecar-taxi. This may simply be a question of custom and use and the impression may be eradicated or modified as the design of the sidecar-taxi changes, as it probably will, as experience gives proof of its limitations.
That the sidecar-taxi is now established as a useful form of conveyance there is little doubt, although it may have to meet a new competitor in the form of a one-seater four-wheeled cab, which has just made its appearance on the streets of Paris. The chassis employed for the cab is the well-known Peugeot Quad, and the unusual body with which it is being equipped is being built through the company, who propose to put a large fleet of such vehicles into service during the next two or three months. The chassis is a standard produetion, although, to resider it suitable for accommodating a landaulet body, ib is strengthened at one:or two vital points. The body is a neat and serviceable job, and offers complete protection to the passenger and any small luggage which he may carry in the interior, to which access is given by a door on one side only. The cab is quite roomy, and does not cramp the passenger. 'These one-seater cabs are being put into service because itis stated that the experiments recently conducted in Paris with sidecar-taxis have nob proved successful, and the larger cabs are constantly delayed owing to traffic congestion. The charges are much lower than on the ordinary cabs, and it •is said that at fares of 80 centimes for the first kilometre, 50 centimes for subsequent kilometres, and 6 francs per hour' for waiting time, a good Working profit can be made. It is even expected that at these low rates a certain amount of patronage will be obtained from those who have hitherto used the buses. It is certain that the average passenger will secure a speedier and more comfortable journey by using thesa