• PASSENGER TRAVEL NEWS.
2nd October 1923
Page 26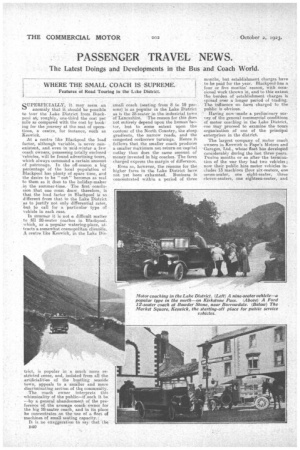 Page 27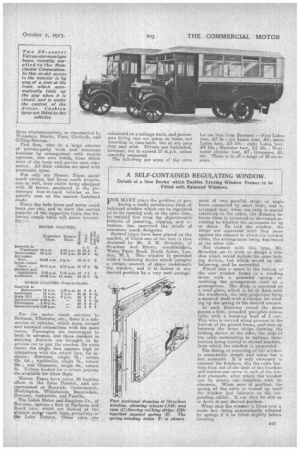 Page 26, 2nd October 1923 —
• PASSENGER TRAVEL NEWS.
Close
The Latest Doings and Developments in the Bus and Coach World.
WHERE THE SMALL COACH IS SUPREME.
Features of Road Touring in the Lake District.
QUPERFICIALLY, it may seem an anomaly that it should be possible to tour the Lake District from Biackpool at; roughly, one-third the cost per mile as compared with the cost by booking for the journey at the seat of operations, a centre, for instance, Stink as Keswick. .
At a centre like Blackpool the. load factor, although variable, is never nonexistent, and. even in midwinter a few coach owners, possessing totally enclosed vehicles, will be found advertising tours, which always command a certain amount of patronage. In the off-season a big percentage of tho local population of Blackpool has plenty of spare time, and the desire to be "out" becomes as real to them as it does to the holiday-maker ,in the summer-time. • The first conchsRion that one must draw. therefore, is that the load factor in Blackpool is so different from that in the Lake District as to justify not only differential rates, but to call for a particular type of vehicle in each case.
In Summer it is not a difficult matter to fill 28-seater coaches in Blackpool. which, as a popular watering-place, attracts a somewhatcosmopolitan clientele. A centre like Keswick, in the Lake Dis trid,:, is popular in a much more restricted sense, and, isolated from all the artificialities of the .bustling seaside town, appeals to a:smaller and more discriminating section of the community.: The coach owner interprets this whimsicality of the public—if such it be —by a general abandonment oi the preference c.f. the average coachowner for the big 28-seater coach, and in its place he concentrates on the pse of a fleet of machines Of small seating. capacity.
It is no ekaggeration to say that, the B40
small coach (seating from 8 to 10 persons) is as popular in the Lake District as is the 28-seater in the industrial town of -Lancashire, 'The reason for this does not entirely depend upon the human'faetor, but to some extent upon the contour of the North Country, the steep gradients, the narrow roads, and the congested corkscrew turnings. Hence it follows that the smaller coach produces a smaller riaai;iirium net return on capital outlay than does the same amount of money invested in big coaches:The fares charged express the margin of difference.
Even so, however, the reasons for the higher fares in the Lake District have mit yet been exhausted. Business is concentrated within a period of three months, but establishment charges have to be paid for the year. Blackpool has a four or five months' season, with
oceasioiiaJ -stork thrown in, end to this extent the burden of establishment charges is spread over a longer period, of trading. The influence on fares charged to the public is obvious.
Having now made a preliminary survey of the general commercial conditions of motor coaching in the Lake District, one may proceed to examine the tours organization of one of the principal enterprises in the district.
The largest company of motor coach owners in Keswick is Paipe's Motors and
• Garages, Ltd., whese• fleet has developed considerably -during the last three years. Twelve months or so after the termination of the war they had two vehicles; now their public hire motor vehicles includes 13 machines (four six-seaters, one seven-seater, one eight-seater, three eleven-seaters, one eighteen-seater, and
three nineteen-seaters, as represented by Wolseleys, Buicks, Fiats, Garfords, and -Tilling-Stevens.
This firm, who do a. large amount of private-party work and American business by arrangement with tourist agencies, also own hotels, from which most of the tours and service runs commence. All their vehicles are shod with pneumatic tyres.
Not only are Messrs. Panes motor coach owners, but horse coach proprietors as well, their stable being equipped with 32 horses, employed in the pie. turesque four-in--hand vehicles so frequently seen on the narrow Lakeland roads.
Every day both horse and motor coach tours are run, and to show the. service Capacity of the respective types the following simple table will prove interesting
MOTOR COACHES.
Keswick to s.d. d,
Wastwater 10 a.m. 6.26 p.m. Si 160 2
Haweswater 10 a.m. 6.15 p.m. 95 20 0 2i Six Lakes Tour . ... 10.30 a.m. 6 p.m. 58 ia 0 8 Seven Lakes Tour ... 10.15,a.M. 6.13 p.m. 9017 6 21. Skiddaw and Saddleback 2.30 p.m. 6.15 P.m. 82 7 6 Ambleside 10.80 a.m. 12 noon 94 100 HORSE COACHES (Four-in-hands). Keswick to Butterrnere 10 a.m. 6,30 p.m. 23 13 0 4 Ambleside ... 10 a.m. 6 p.m. 34 10 0 lit Scale Hill ... 10 a.m. 6 p.m, 26 9 0 4 Derwentwater 2.30 p.m. — 12 3 6 -33/4
Thirlemere2.30 pan. — 20 5 0
BassenthwaRe 3.80 p.m. — 18 4 0 3
For the motor coach services to Bowness, Ullswater, etc. there is a subservice of .vehicles, which make inward and outward.00nnections with the main routes. Passengers are encouraged to boa in advance, and those resident in outlying districts are brought in by private car to join the coaches. On some routes the single fare appears high -in coninarison with the return fare, for instance : Bowness; single -'9s., return 12s. 6d. ; Ambleside, single 7s., return 10s..; and Grasmere, single 6s., return 8s. Tickets booked for a return journey
are available for three days. . _ • Messrs. Papes have about 20 booking offices in the Lake District, and are represented at Keswick, Cockermouth,Workington Whitehaven, Borrowdale, I3owness, .A_;nbleside, and. Penrith. _
The Lake's Motor and Seaplane _Qo., of Bowness, operate a fleet of _Sunbeam and Buick cars, which are booked at the average motor coach fares prevailing in-the Lake District. These rates are
calculated on a mileage basis, and passengers hiring cars are taken on tours, not according to time-table, but at any pace they may wish. Drivers are instructed, however, not to exceed 15 m.p.h. unless specially requested. The following are some of the rates
for car hire from Bowness :—Five Lakes tour, 23 3s.' six Lakes tour, 23; seven Lakes tour, 23 113s. ; eight Lakes tour, 24 15s. ; Honister tour, 25 10s.; Westwater circular tour, 27; Grasmere, 21, etc. There is hi all a range of 29 excursions.