A Neat Three-wheel Carrier.
2nd October 1923
Page 16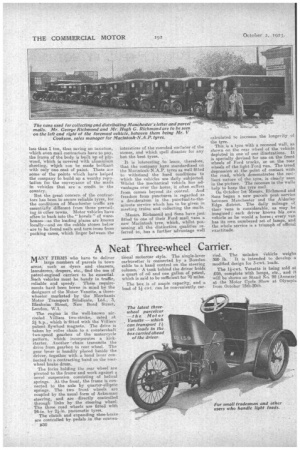 Page 16, 2nd October 1923 —
A Neat Three-wheel Carrier.
Close
MANY FIRMS who have to deliver large numbers of parcels in town areas; such as dyers and cleaners, launderers, drapers, etc., find the use of petrol-engined carriers to be essential.
S,uch vehicles .must be handy in traffic,
reliable and speedy. These require ments have been borne in mind by the designers of the Motor Vanette, a threewheeler marketed by the Merchants Motor Transport Syndicate, Ltd., 3, Blenheim Street, New Bond Street, London, W.1, The engine is the well-known aircooled "Villiers two-stroke, rated at h.p., which iafitted with the Villiers patent flywheel magneto. The drive is taken by roller chain to a countershaft two-speed gearbox of the motorcycle pattern, which incorporates a kick starter. Another -chain transmits the drive from gearbox to rear wheel. The gear lever is handily placed beside the driver, together with a. hand lever connected to a contracting band on the rearwheel brake drum.
The forks holding the rear wheel are pivoted to the frame and work against a novel suspension consisting of helical springs. At the front, the frame is connected to the axle by quarter-elliptic springs. The two front wheels are coupled by the usual form of Ackerman steering, and are directly controlled through links by the steering wheel. The three road wheels are fitted with 24-in, by 2k-in. pneumatic tyres.
The clutch and expanding shoe-brake are controlled bypedals in the convenI. B30 tional motorcar style. The single-lever carburetter is connected by a Bowden cable to a hand control on the steering column. A tank behind the driver holds 16 quart of oil and one gallon of petrol, which is said to be sufficient for 70 miles.
The box is of ample capacity, and a load of 14 cwt. can be conveniently car
nod. The unladen t"iehicle weighs 300 lb. It is intended to develop a modified design for 3-cwt. loads.
The 4-cwt. Vanette is being sold at £95, complete with lamps, etc., and it will be shown on Stand Isio. 99 (Annexe) at the Motor Cycle Show at Olympia from October 15th-20th.